Separatist forces in Sudan are believed to have opened fire on a convoy of U.S. diplomats traveling in the nation's capital of Khartoum on Monday as rival factions continued a bitter conflict over control of the country.
Secretary of State Antony Blinken said he has spoken with the leaders of both factions and believes the attack was carried out by Gen. Mohammed Hamdan Dagalo's Rapid Support Forces (RSF). The RSF is a paramilitary group currently warring with the Sudanese army, led by Gen. Abdel-Fattah Burhan.
"I can confirm that yesterday we had an American diplomatic convoy that was fired on. All of our people are safe and unharmed. But this action was reckless, it was irresponsible, and of course unsafe – a diplomatic convoy with diplomatic plates, a U.S. flag, being fired upon," Blinken said in a statement.
"In the calls that I had this morning with Gens. Hemedti and Burhan, I made very clear that any attacks, threats, dangers posed to our diplomats were totally unacceptable," Blinken said. "The initial reports that we have is that it was undertaken by forces associated with the RSF."
UNITED NATIONS CALLS FOR HALT TO SUDAN VIOLENCE AFTER THREE AID WORKERS AND DOZENS OF OTHERS ARE KILLED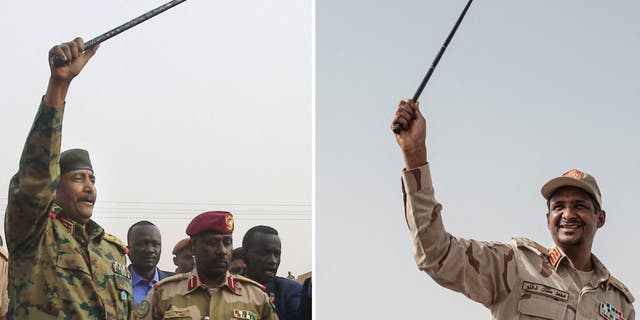 Burhan and Dagalo were once allies who successfully conspired to overthrow the Sudanese government as it was transitioning to a democracy in 2021. The pair have since split over who should lead the country.
The rival forces have fought for four days as of Tuesday, killing at least 185 people and wounding 1,800 more. The RSF called for a 24-hour humanitarian cease-fire on Tuesday, but Burhan's forces rejected the offer, dismissing it in a statement posted on Facebook as an attempt to cover up "the overwhelming defeat [the RSF] will receive within hours[.]"
US EMBASSY STAFF IN SUDAN SHELTERS IN PLACE AS PARAMILITARY FORCE SEIZES PRESIDENTIAL PALACE
Fighting in Khartoum has left the capital city scarred as warring factions seek to take control of the Republican Palace, the Sudanese seat of government. The current headquarters for both factions are in residential areas, however, which greatly increases the threat of civilian casualties.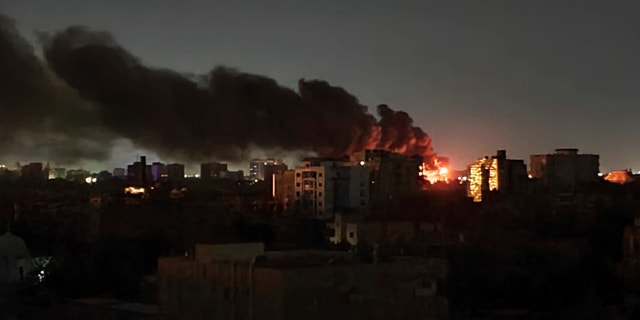 CLICK HERE TO GET THE FOX news APP
Despite the claims of imminent victory from Burhan's forces, it was unclear who had the advantage in the conflict as of Tuesday.
Source : https://www.foxnews.com/world/us-diplomatic-convoy-attacked-sudan-rival-factions-battle-capital?rand=1264