Taiwan is reportedly buying 400 U.S. anti-ship missiles as it faces continued territorial threats from China.
The Pentagon announced a $1.17 billion contract for the Boeing-made Harpoon missiles on April 7, without disclosing the purchaser. On Tuesday, Bloomberg news, citing the president of the US-Taiwan Business Council and three other people familiar with the deal, is reporting that Taiwan is the buyer.
"The United States' provision to Taiwan of defense articles, which includes sustainment to existing capabilities via Foreign Military Sales and Direct Commercial Sales, is essential for Taiwan's security," Army Lt. Col. Martin Meiners, a Defense Department spokesman, told Bloomberg, without elaborating on the destination for the weaponry.
He added that the U.S. "will continue to work with industry to provide Taiwan defense equipment in a timely manner."
CHINA TO CONDUCT 'MAJOR MILITARY ACTIVITY' IN YELLOW SEA AMID HEIGHTENED TENSIONS IN REGION
Fox news Digital has reached out to the Department of Defense for further comment.
The Pentagon previously said on April 7 that the order is for "400 RGM-84L-4 Harpoon Block II Update (HIIU) Grade B canister tactical missiles" and other items including "four blast test vehicles," logistics support and training.
The order is expected to be completed by March 2029, the Pentagon added. In 2020, Taiwan said it wanted to buy the land-launched Harpoon missiles as part of efforts to modernize its military, Reuters reports.
Chinese Foreign Ministry spokesman Wang Wenbin criticized the deal Tuesday, saying it will "undermine China's sovereignty and security interests," according to Bloomberg.
A Taiwan Defense Ministry spokesperson, meanwhile, would only say his country is confident the order will be completed on time, Bloomberg added.
US SAILS WARSHIP IN TAIWAN STRAIT FOLLOWING CHINA'S DRILLS IN REGION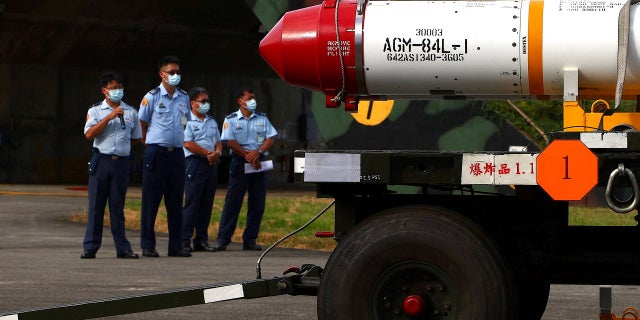 On Monday, the U.S. sailed a warship through the Taiwan Strait for the first time since China concluded its recent massive military drills surrounding Taiwan.
The U.S. 7th Fleet sent guided-missile destroyer USS Milius through the strait in what the U.S. has called a routine operation, and one which served to emphasize that the strait is "beyond the territorial sea of any coastal State."
The maneuver came just days after China concluded a series of military drills that saw its forces surround the self-governed island and simulate strikes against it. China's drills came in response to Taiwanese President Tsai Ing-wen's trip to the U.S. and subsequent meeting with House Speaker Kevin McCarthy.
CLICK HERE TO GET THE FOX news APP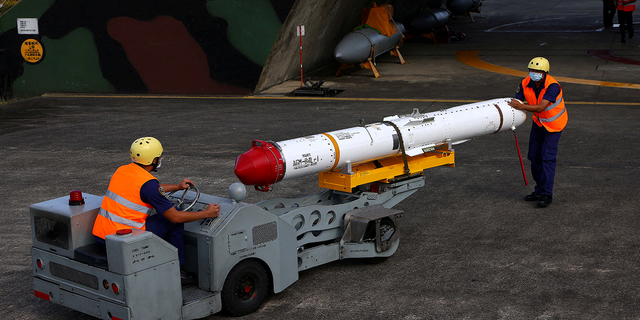 China has long claimed to hold sovereignty over the Taiwan Strait and the island itself, something not recognized by the U.S. or international law.
USS Milius was the second Western military vessel to publicly transit the strait since the end of China's exercises. The French navy also sent its own warship through the strait last week as one of the country's lawmakers visited Taiwan.
Fox news's Anders Hagstrom contributed to this report.
Source : https://www.foxnews.com/world/taiwan-buying-400-anti-ship-missiles-us-china-threats-persist-report?rand=1264