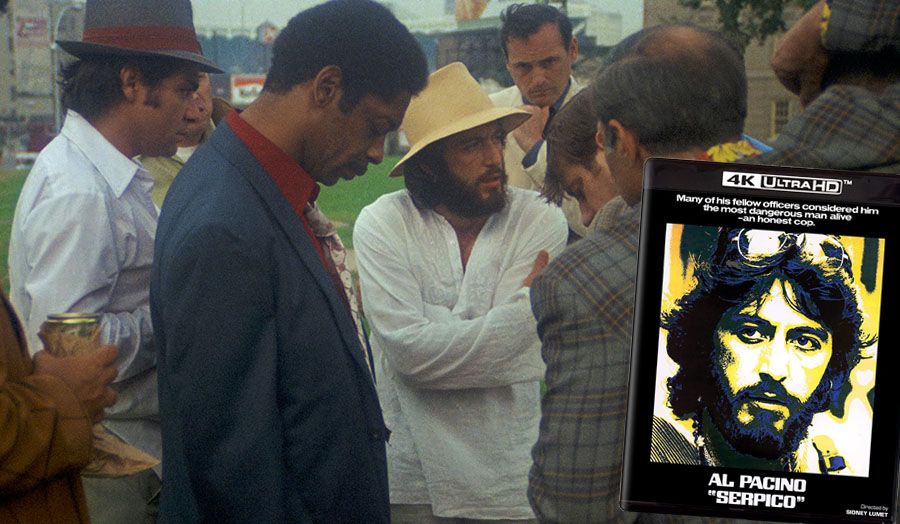 Director Sidney Lumet 1973's noirish drama of a plainclothes cop exposing corruption at the New York City Police Department finally debuts in the ultra-high definition disc format to American audiences in Serpico: 50th Anniversary Edition (Kino Lorber, rated R, 1.85:1 aspect ratio, 130 minutes, $39.95).
The biographical crime drama, adapted from the book by Peter Maas, starred Al Pacino, in an Academy Award-nominated and Golden Globe-winning portrayal of the real-life Detective Frank Serpico.
The narrative covered his career from the late 1960s to 1970s with the NYPD, fighting against criminals, battling rampant corruption in the precincts and ultimately becoming a whistleblower to expose his brethren's misdeeds.
Suffice it to report, Mr. Pacino delivers one of the meatier performances of his career, having studied the real Serpico, and depicting a man spiraling through depression and anger as his fellow officers put more and more pressure on him to take bribes.
His work is richly supplemented by a cavalcade of famed character actors including Tony Roberts ("Annie Hall"), John Randolph ("National Lampoon's Christmas Vacation"), F. Murray Abraham ("Amadeus"), Edward Grover ("Baretta") and Allan Rich ("Curb Your Enthusiasm").
The film's restoration comes from a 4K scan of the 35mm original camera negative and offers a surprisingly clean and naturally colored presentation featuring normal human skin tones, some slight grain consistent to the film source, and crisp and clear darker scenes highlighting the grimy streets of the Big Apple.
Considering Paramount artisans were working with a 50-year-old film, they have delivered a brilliant transfer often spotlighted by Serpico's variety of colorful and textured clothing and showcasing some vintage vehicles and excess of brow sweat.
Best extras: Kino Lorber first offers a new optional commentary track with films historians Howard S. Berger, Steve Mitchell and Nathaniel Thompson as they dissect the director's career, the film and the original source material.
They talk nonstop and touch on Dede Allen's unconventional editing; and Lumet's efficiency in filming, making characters larger than life, framing locations in New York City to showcase urban vignettes, shooting in real locations, and the casting of former blacklisted actors and crew.
Also, viewers get a pair of 30-minute segments, both previously seen in Studio Canal's overseas release of the film in the 4K format back in 2010.
First, an interview with the director (originally recorded in 2005) is especially worth a look as he talks about his love of New York and its history, "Serpico" and violence in his movies.
Next, an acute examination of Mr. Pacino and his acting style gets discussed by NYPD Commanding Officer Jack J. Cambria and directors who worked with the actor including Jack Garfein ("Something Wild"), Jerry Schatzberg ("Scarecrow" and "The Panic in Needle Park") and Michael Radford ("The Merchant of Venice").
Finally, a pair of vintage featurettes (22 minutes in total), originating from Paramount's 2002 DVD release, round out the extras. They include interviews with producer Martin Bregman on the production and Lumet on his process of filmmaking.
Source : https://www.washingtontimes.com/news/2023/apr/27/serpico-50th-anniversary-edition-4k-ultra-hd-movie/?utm_source=RSS_Feed&utm_medium=RSS&rand=1247