Savannah Marshall: I fought the best Claressa Shields we've all ever seen – but I'll be world champion again | Boxing News
Savannah Marshall begins her road to redemption against Franchon Crews-Dezurn at the AO Arena in Manchester on the June 17 Liam Smith vs Chris Eubank Jr Sky Sports Box Office bill.
Marshall lost her grudge match with Claressa Shields last year but the Hartlepool star gets an immediate shot at another undisputed title next when she moves up to super-middleweight to challenge Crews-Dezurn for her WBO, WBA, WBC and IBF championships.
She's learnt from her experience with Shields and won't let her second chance to win the greatest title in the sport evade her grasp.
Undisputed champion Franchon Crews-Dezurn sent a strong message to challenger Savannah Marshall.

"For me, looking back [at the Shields fight, I see] just how much I've grown," Marshall told Sky Sports. "The build-up was very intense, the to and fro, the backwards and forwards.
"I was a girl who couldn't even box in a social club in front of 50 friends and family, and I headlined the 02 in front of 20,000, so for me I look back and think, 'wow, how far I've come'."
She knows she can handle an occasion like that and the unique pressure of competition at the highest level.
But to win at that level Marshall also realises she cannot afford to make a mistake. The gameplan has to be exact.
Savannah Marshall says she's looking forward to moving up in weight to face Franchon Crews-Dezurn and has called the fight a 'show-stealer'.

"For me it was a massive learning curve of look, the tactics have to be spot on, the tactics have to be right," she said. "People get things wrong, we're all human."
She did though add: "That was the best Claressa we've all ever seen. Not taking anything away from her, I knew it'd be a hard fight, but she was tough, she was a lot tougher than I thought she'd be.
"She's got the right to call herself the best in the world."
Marshall believes that experience will set her up to overcome Crews-Dezurn.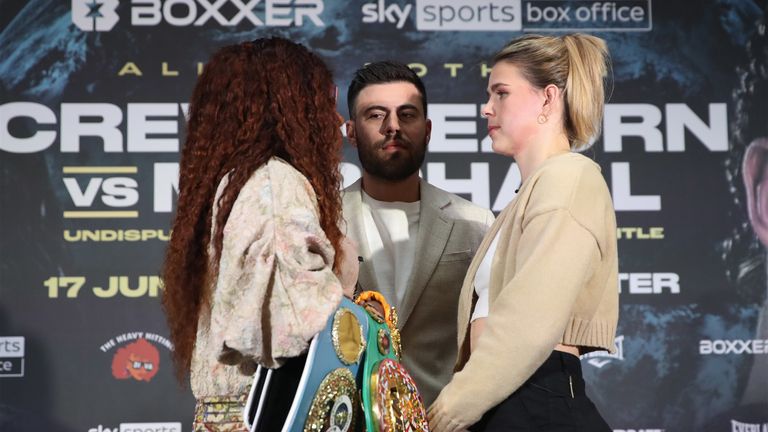 "I know what I'm letting myself in for and I know what she does," Marshall said. "She's tough, she's rugged, she's quite dirty and I think she uses that to her advantage.
"I believe she doesn't do the fundamentals very well. But this is what goes in her favour, what she's perfected, what she does and she's made it work for her.
"I want to be world champion again. That was the goal and it's still the goal. Didn't get another crack at Claressa but this is the next best thing for me."
Source : https://www.skysports.com/boxing/news/12040/12866380/savannah-marshall-i-fought-the-best-claressa-shields-weve-all-ever-seen-but-ill-be-world-champion-again?rand=3094