Russian opposition leader sentenced to 25 years in prison after speaking out against the war in Ukraine
Russian opposition figure Vladimir Kara-Murza was convicted by a Russian court of treason Monday, and sentenced to 25 years in prison for speaking out against Putin's invasion of Ukraine at the outset of the war last year.
Kara-Murza, who has survived two poisoning attempts that he blames on Putin, was originally arrested last April after returning to Moscow from Arizona, where he gave a speech to the state House of Representatives.
"These are very dark times in Russia today. These are times when we have hundreds of political prisoners, and that number is only going to grow now as people are arrested for taking part in antiwar demonstrations," Kara-Murza, a friend of the late Arizona Sen. John McCain, told lawmakers in March 2022. "Every day we hear of new arrests and new detentions and new repressions against our friends."
MACRON ASKS XI: 'BRING RUSSIA TO ITS SENSES'
The U.S. State Department condemned Kara-Murza's sentence Monday and called for his immediate release, as well as the release of Alexei Navalny and Ilya Yashin, two Putin critics who are currently imprisoned in Russia.
"Mr. Kara-Murza is yet another target of the Russian government's escalating campaign of repression," a State Department spokesperson said in a statement. "We renew our call for Mr. Kara-Murza's release, as well as the release of the more than 400 political prisoners in Russia."
The Russian Embassy in the U.S. appeared to reference Kara-Murza's Arizona speech Monday, while accusing the U.S. of "a blatant attempt to influence the independent judicial system of the Russian Federation."
"What reaction would follow if an American would walk, as if to his workplace, to a foreign parliament, speaking allegations against the leadership of his own country and actively participating in development of sanctions?" the Russian Embassy said, according to state media outlet Tass.
NAVALNY: RUSSIA'S UKRAINE INVASION IS PUTIN'S 'STUPID WAR'
Kara-Murza, a dual Russian-British citizen, was convicted under a law passed days after Russia's invasion that criminalizes spreading "false information" about the country's military.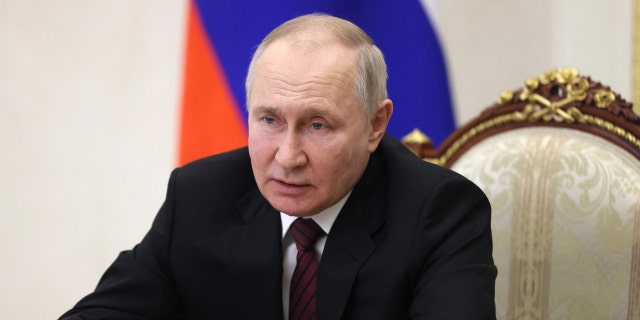 CLICK HERE TO GET THE FOX news APP
British Embassy officials have attended Kara-Murza's court hearings and have raised his case with the Russian Ministry of Foreign Affairs.
"Russia's lack of commitment to protecting fundamental human rights, including freedom of expression, is alarming," British Foreign Secretary James Cleverly said in a statement. "We continue to urge Russia to adhere to its international obligations including Vladimir Kara-Murza's entitlement to proper healthcare."
Source : https://www.foxnews.com/world/russian-opposition-leader-sentenced-25-years-prison-speaking-against-war-ukraine?rand=1264