Ronnie O'Sullivan calls Luca Brecel 'most talented player I've ever seen' after shock World Snooker Championship defeat | Snooker News
Luca Brecel admitted he had got "drunk as hell" after his victory over Mark Williams as he knocked out Ronnie O'Sullivan in the quarter-finals of the World Snooker Championship in Sheffield; the Belgian won seven successive frames on Wednesday to win 13-10 after being 10-6 down overnight
Last Updated: 26/04/23 5:52pm
news
/12040/12867014/ronnie-osullivan-calls-luca-brecel-most-talented-player-ive-ever-seen-after-shock-world-snooker-championship-defeat">
Ronnie O'Sullivan labelled Luca Brecel one of the most talented players he had ever encountered after he suffered a shock defeat to the Belgian in the World Snooker Championship quarter-finals on Wednesday.
The seven-time champion, who was defending his crown from a year ago, relinquished a 10-6 lead to lose 13-10 before underlining his desire to see Brecel go all the way.
"He played unbelievable," O'Sullivan told BBC Sport. "He's such a good player, I love watching him play.
"His cue action, he gets through the ball so well. It's incredible. The whip he gets on the white, the top spin, the thud he hits the ball with.
"He's such a dynamic player, probably the most talented snooker player I've ever seen.
"I'd love to see him go and win it because that's how snooker should be played. He's a phenomenal talent and player."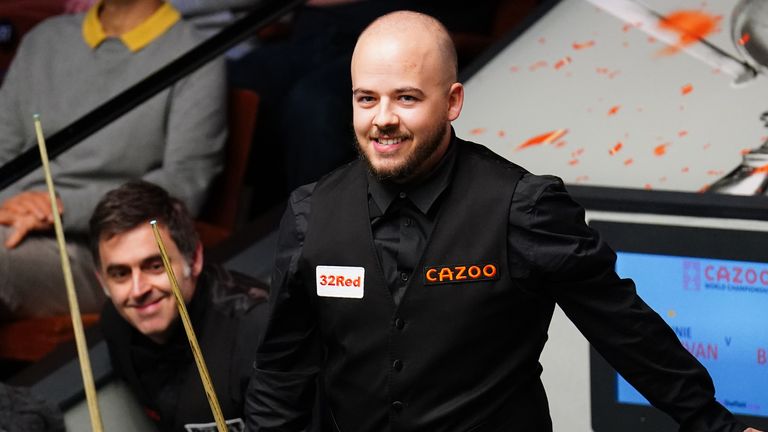 O'Sullivan added that had it been a boxing match it would not have gone the full distance as the 47-year-old found himself up against an inspired Brecel.
"I didn't put up any resistance but you've still got to pot the balls and he played unbelievable. I wasn't playing well enough to have any impact on the game," O'Sullivan added.
"If it was a boxing match they would have stopped it very early on. I was just pinching frames and hanging on.
"There's only so much hanging on you can do at the Crucible. It catches up with you at some point, and someone will eventually put you away."
Brecel's previous successes include major victories at the 2021 Scottish Open and the 2022 Championship League.
Speaking afterwards, he lifted the lid on something of a sleepless approach heading into the tournament.
"Before the tournament I was out partying, staying up late to 6 or 7am, playing FIFA with my friends, not practising," Brecel told BBC Sport.
"Even after I beat Mark Williams [in the second round] I got home at 7am by car, and then we went out again until 5 or 6 in the morning, drunk as hell. The next day, I had to drive back up again, so it's a totally different preparation, and it's working."
Source : https://www.skysports.com/snooker/news/12040/12867014/ronnie-osullivan-calls-luca-brecel-most-talented-player-ive-ever-seen-after-shock-world-snooker-championship-defeat?rand=3094