NFL Draft prospect Steve Avila talks TCU's talent show, facing Mazi Smith, pancaking Aaron Donald and the story behind his name | NFL News
news
/12040/12860231/nfl-draft-prospect-steve-avila-talks-tcus-talent-show-facing-mazi-smith-pancaking-aaron-donald-and-the-story-behind-his-name">
Steve Avila was thrown off a rollercoaster when he was younger. What might have been a humiliating 'big guy story' would evolve into a proud o-line badge of honour, brandished now through astute blocking as one of the NFL Draft's most coveted offensive linemen.
The tale served as a worthy stand-up comedy act during the TCU talent show, the laughs of team-mates in the audience soon becoming gratitude for the forklift that would come to star at the heart of their pass protection and run game over the next four years.
"I didn't know what I was going to do, I just thought I'd tell a story about myself," Avila told Sky Sports. "Long story short, it's a big guy story, I went to Six Flags which is an amusement park, and I ended up getting kicked off the ride, it was such a shameful moment and at the end there was this guy who is about 400lbs who looked at me and went 'man… they kicked you off too?' and I'm like 'ohhhh man I'm not you!'.
"At the time I'm a sophomore in high school so I'm really big, but now I'm around people who are bigger so we all have the same problem!"
Every seat on the rollercoaster had been filled. Avila sat there surveying with intrigue as to why the ride was being delayed, checking his harness to ensure it was secure before clocking a staff member walking in his direction. The request to depart was made. His ride was over.
He can afford to look back and laugh about it as he makes his way to the NFL, where dwarfing size is rewarded. And plus, TCU talent show embarrassment was customary.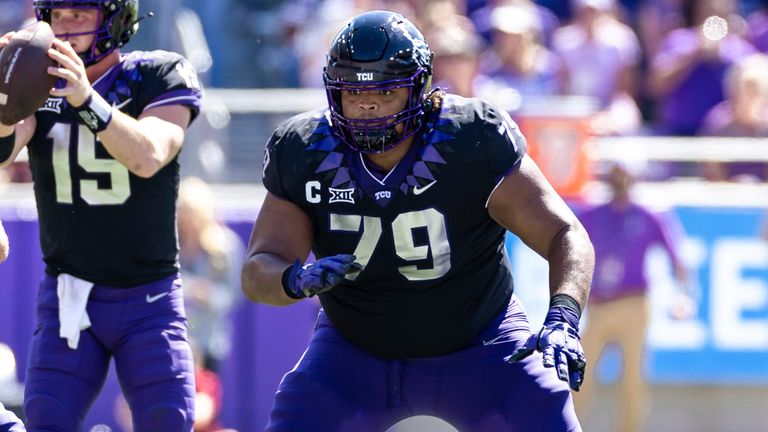 Live NFL Draft
April 28, 2023, 1:00am
Live on
"It's like this initiation thing, they don't do it anymore, and it's funny because a lot of people try to get out of it but the people that are watching are previous players who had to do it," he recalls. "Freshmen have to go in and do something, I've seen it all, I've seen somebody make a noise with their ear, I've seen somebody make a whistle noise with their hands, somebody flick cards. Everything."
Avila tells the story with a smile. He is your big friendly bully, who bangs, crashes and savours mean-faced combat on the field and likes to get massages and pedicures during his downtime away from it.
For somebody who admits he would struggle to speak in interviews early in his career, he cuts a relaxed and warming figure as he willingly delves into family life and technique at 7am in the morning.
"It's funny, my mum always talks about 'Ah I can't believe you have to be that way on the field'," he laughs. "You have to, I'm a different person on the field but I try to not let that deter me from who I am off the field.
"I've always been a talkative guy, I love meeting new people, I love making new relationships but when you put on the pads and get on the field it's a different game."
Prior to the NFL Scouting Combine he had been warned by his trainer that one team would seek to put his gentle giant demeanour and general niceness to the test, team interviews in Indianapolis notorious for prodding character traits as much as they examine footballing adeptness. It would be Atlanta Falcons head coach Arthur Smith who played the role of bad cop.
"I was told by the trainer 'somebody is going to try and check you, try to see how you react', so I'm keeping that in the back of my mind," he explained. "I think Atlanta were one of the last interviews I had, I walk in and try to shake everybody's hands and the head coach is like 'sit down', he says it in such a mean way and I'm like 'here it is'. They all mean well, I didn't take anything out of proportion, I knew what they were trying to do and I respect that. I kept a level head so I think I did a pretty good job."
These days he stands at 332lbs and 6ft 3.5ins, throwing opposing defenders off the metaphorical rollercoaster. The term 'remember the name' comes with added significance.
"So my birth name is Estaban, that's just like saying Xavier (Egs-zay-vee-ur) and Javier (Hah-vee-air), it's the same thing," he says. "When I was a freshman in high school one of my coaches was from Mississippi and he couldn't say my name right so he was like 'man I'm just going to call you Steve'. And everybody started calling me that so it's a lot easier to say, trust me."
Coffee shop and fast food restaurant outings can prove… interesting.
"If I'm ordering food and I tell them my name when I get the ticket back it's nothing spelled like that, I just say Steve and it's a lot easier," he laughs. "I have so many pictures of different ways my name is spelled that I never knew.
"If you met me and I told you to call me Steve that's when you can call me Steve. Like my sister a couple of weeks ago called me Steve and I was like 'do not call me that, ew don't do that again'. I try to help people out, that's all it really is!"
His name, along with his stock, has blossomed in popularity as the Draft process has moved along, Avila projected to disappear swiftly on day two as one of the most hand-savvy clean-clobbering guards on the board.
Avila allowed zero sacks across 540 pass block snaps as part of the TCU side that reached the College National Championship game last season (PFF), while getting reps at both guard roles, both tackle roles and at center.
Within the chief sells has been 23-year-old's game intelligence and proclivity to geek out over tape, evidenced as his face lights up when challenged to pick out a favourite play during his college career.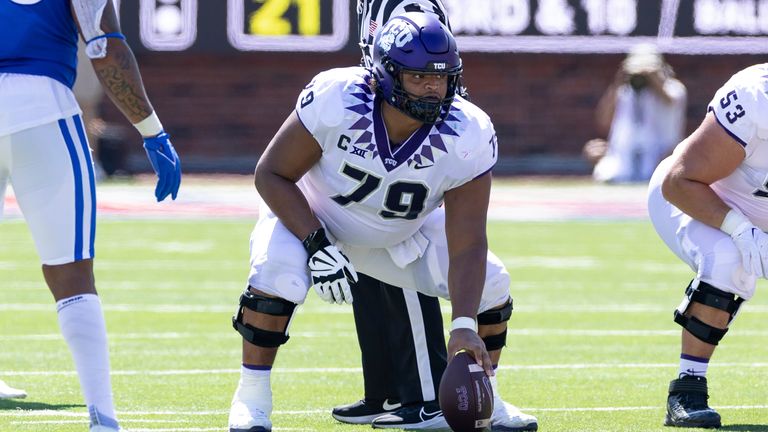 "It was against Michigan and they brought this one blitz, it was five on five, linebacker down the middle of the center, pass protection play, they bring this blitz where they bluffed the middle linebacker and moved him into coverage and bring a blitzer on the outside and have a twist on the left," he explained.
"We knew they were going to do that, we just didn't know when. It's such an obscure blitz but it was almost like clockwork when we picked it up, we ended up scoring on that play, Quentin Johnston ended up running it for like 60 or something. If you look at our center it was almost like at the snap of the finger he snapped the ball, he saw it and went outside to pick up the blitzer. I look at it every time and I'm like 'wow, it's such a nice play'."
He deems his versatility one of his class-separating assets, while among his perceived misconceptions is one-dimensional pigeonholing as a pure inside zone run specialist.
"People put me in a box sometimes when it comes to that," he admitted. "I don't really blame them but I feel like other areas of my game shine just as much as playing inside zone and pass protection. I feel like I can fit into any scheme. Again that just comes with doing what's asked, I don't feel like my ability hinders me from being a part of any scheme."
Steve Avila profile
| | |
| --- | --- |
| School | TCU (2018-2022) |
| Age | 23 |
| Height | 6'4″ |
| Weight | 332lbs |
| Arm length | 33″ |
| 40-Yard Dash | 5.21 (61st Percentile) |
| Vertical Jump | 29.5″ (69th Percentile) |
| Broad Jump | 8'2″ (8th Percentile) |
| 3-Cone Drill | 7.85 seconds (40th Percentile) |
| 20-Yard Shuttle | 4.74 seconds (66th Percentile) |
Make no mistake, while Avila glistens as a lift-and-remove lane-clearer in gap schemes, he is more than comfortable and equipped to skip outside and bulldoze second-level defenders in an outside zone run design.
"Ask any offensive lineman, whenever there's a screen play or outside zone and you're working up to the linebacker you want to showcase you can run that fast. I had one at the Senior Bowl which was really cool.
"With outside zone, there's technique that goes into that but at the end of the day it's just out-running this guy and that's how I view it. A lot of the times you have double teams on plays on that. When you don't it's a case of who is faster, who has better technique, who can get their hands on and use them well. I do feel like I'm a quick guy for my size, at the combine my official 40 was a 5.18, it said like 5.21, it was 5.18."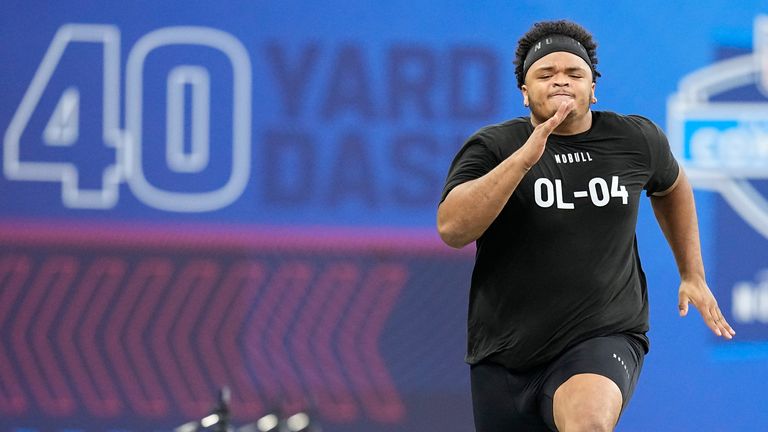 Controlled and trusted footwork has been a leading feature to Avila's production, enabling him to glide laterally as he matches defenders as well as dominating blocks off of a sturdy back-foot and pivoting seamlessly to cover up defenders on the final phase of rushes.
"It's God given!" he said of his footwork. "I remember in little league I was on the select team and they tried to put me in running back, I ran the ball twice, I swear to God there was a hole in the ground and I ended up falling and they were like 'na, you're offensive line', the reason they did that was because I had quick feet. At the end of the day it's really God given."
When it comes to hand technique Avila has sought to refine a balance between punch and placement, drawing on the latter as he looks to get up inside an opponent's pads and manoeuvre them from the party. On the occasions he does jab and stab, he has the side-to-side speed to mirror second efforts granted by the fresh runway created by the contact.
"There are certain instances where you would just all-out throw your hands out at them, this is just a philosophy, everybody is different," he explains. "For me, wherever you place your hands isn't where it's going to be at the end of the play, the defender is not going to just let you do something.
"A lot of what I have in my game is just replacing my hand placement on pass protection. I know I can rely on my anchor enough to sit down on bull rushes, but you've just got to be conscious about the defender's next move and that's what goes into my hand placement."
One of his standout games in college offered up a glimpse of the future in the NFL as he went toe-to-toe with Michigan defensive tackle Mazi Smith, who ranked first in run stop rate (11.6 per cent) among 85 interior linemen with 200-plus run snaps last season (PFF). Avila looks back on it as his toughest test to date, by the end of which he could not wait to get the popcorn out (or sushi, he loves sushi) and break down the tape.
"A lot of my game is inside zone and his is run stopping so our games clashed there, it was a very, very good battle," he said. "He got me sometimes and I got him sometimes, during that game I had to make an adjustment with what I was doing because he showed me something I could have taken advantage of and I ended up doing so, so it was awesome to analyse that."
Football's trench men pride themselves on dishing out pancakes. And when it comes to entering the NFL, Avila is aiming high. Hall of Fame high.
"Aaron Donald," he laughed. "I know that will never happen, if that happens it will be a great day, I don't want to get ahead of myself, we'll see."
Avila admits there was initially little interest in pursuing a career in the NFL. He was just a kid who enjoyed running people over and playing football.
Since taking it seriously his trajectory has been smooth-moving and consistent, leaving him well-placed to enjoy another jump at the next level. Wherever that may be.
"I have so many goals for myself, I set goals so high," he said. "I know I have so much potential, and again potential doesn't really mean anything but I want to maximise that and I know I'm nowhere near that ceiling yet so it's going to be awesome to see that translate over to the NFL and learn from the older guys."
Watch all three days of the NFL Draft live on Sky Sports from April 27-29; join Neil Reynolds and Phoebe Schecter for a live preview show from 9pm on Thursday
Source : https://www.skysports.com/nfl/news/12040/12860231/nfl-draft-prospect-steve-avila-talks-tcus-talent-show-facing-mazi-smith-pancaking-aaron-donald-and-the-story-behind-his-name?rand=3094