Man City vs Arsenal: How Mikel Arteta's tactics turned the Gunners into title contenders this season | Football News
It is the game that will define their season. Arsenal go to Manchester City on Wednesday knowing that victory will put them in control of their Premier League title race destiny.
Even if Mikel Arteta's side do not get over the line and into first place, we have seen remarkable levels of improvement from the north Londoners, who have gone from fifth to title challengers in the space of a year.
But how have Mikel Arteta's side managed such a feat? Their success this season can be attributed to:
Arteta's 2-3-5 formation and the impact of their five-pronged attack
Arteta's in-game tweaks to cause late winners and responses to setbacks
The power of the 'box midfield'
The arrivals of Zinchenko and Saliba
Paul Merson believes Arsenal need to not lose against Manchester City if they want to win the title while Sue Smith thinks Pep Guardiola's team look 'unstoppable'.

A new look-Arsenal
It was the first sign that this Arsenal team was special.
Just five days before the opening day of the Premier League season, Arteta's team thrashed Julen Lopetegui's Sevilla 6-0 in their final pre-season game. A friendly, no doubt, but heads were still turned by the result.
Asked later that evening to name his title contenders, Liverpool manager Jurgen Klopp said in his list: "Arsenal. I saw the result, pretty impressive today. I don't think that ever happened to Sevilla to be honest."
It was the start of a new-look Arsenal under Arteta as there were some surprises in that team. Ben White at right-back? Oleksandr Zinchenko at left-back – and not in midfield? Granit Xhaka playing in an attacking role?
This was Arsenal's new 2-3-5 formation, where Arteta's Arsenal split the pitch between five defensive players and five attacking players – a policy described as "five and five" by Jamie Carragher on Monday Night Football earlier in April.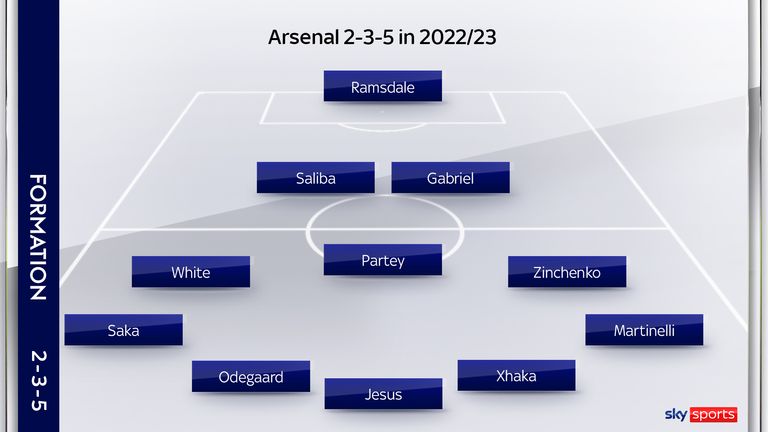 William Saliba and Gabriel in a back two. White and Zinchenko drifting in from full-back to support Thomas Partey in midfield – and Xhaka joining the front four of Bukayo Saka, Martin Odegaard, Gabriel Jesus and Gabriel Martinelli in a line of five.
A five-pronged attack is not a new phenomenon in English football. Pep Guardiola is said to be the manager who brought this set-up to England with Manchester City. Brighton's success under Roberto De Zerbi has also come through a similar attacking formation, while Liverpool have started playing in a similar way in the last few weeks.
Arteta's Arsenal also tried it last season but in a different format. Instead of Xhaka, Kieran Tierney would join the five-man attack, pushing the left-sided forward – either Pierre-Emerick Aubameyang or Emile Smith Rowe – into a more central position.
But it didn't work all the time. It came with complications. Firstly, it would require Xhaka to take up a more defensive role in the team and this season has proven that the Swiss midfielder is better used in that front five than in a holding role. Meanwhile, Tierney – one of Arsenal's better one-on-one defenders – would be caught too high up the pitch.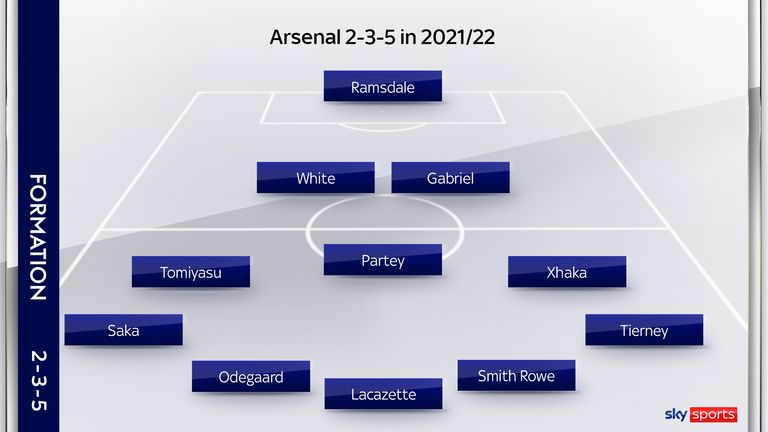 But the summer arrival of Zinchenko meant Arsenal could push Xhaka into that front line and keep the left winger – this season being the electric Martinelli, now the club's top scorer, in a high and wide position. He and Saka have the most completed take-ons of any Premier League players this season.
Arsenal playing a 2-3-5 formation can be deemed risky due to defensive concerns – but splitting the pitch between five compact defensive players and five attacking players does have its advantages.
If the Gunners are caught on the break, White and Zinchenko taking up central positions alongside Partey, Saliba and Gabriel means there is a five-person block in the middle of the pitch to prevent a counter-attack.
That shape means the most comfortable space for opposition players to break into is out wide, meaning they have to run more in order to reach the goal than the retreating Arsenal defenders, who have a simple straight line towards their own penalty box.
An example can be seen early on in Arsenal's north London derby win away at Tottenham. With the score at 0-0, Harry Kane beats the Arsenal press and launches a counter for Spurs.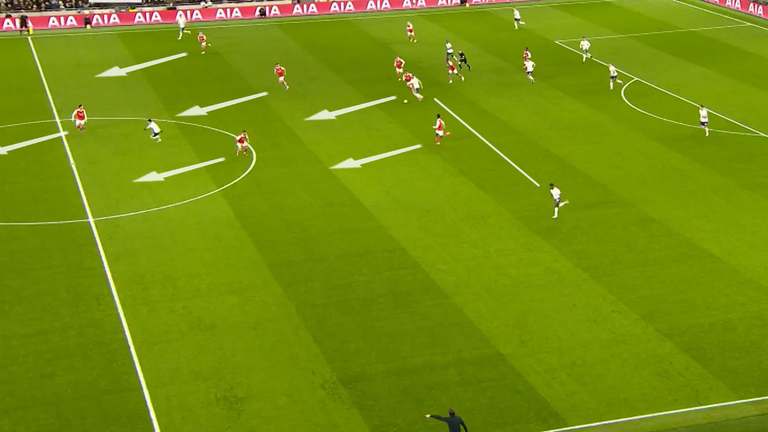 The easiest space for Kane to move the ball is towards wing-back Ryan Sessegnon and while the Tottenham break is quick, Arsenal's block means their five defensive players can get back in time.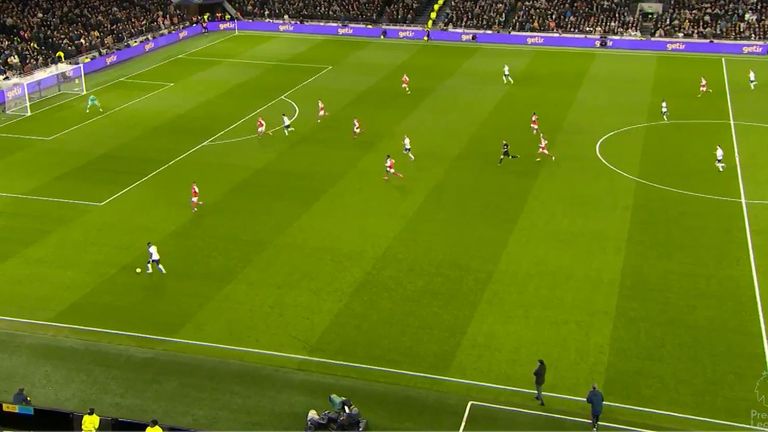 How Arsenal's five-pronged attack damages teams
The Amazon Prime documentary on last season at Arsenal showed a training pitch split equally into five vertical zones. Arteta trains his Arsenal attack so that one of the five attackers must be in each zone at all times.
The reason for this positional play is so Arsenal can create an overload on a back four if they get the ball into dangerous areas, which would then force a central midfielder, who is less comfortable with one-on-one defending, to drop into a defensive area.
Against Manchester United in January, Carragher revealed how Arsenal put attacking midfielder Christian Eriksen in an uncomfortable position by setting him up one-on-one against Saka.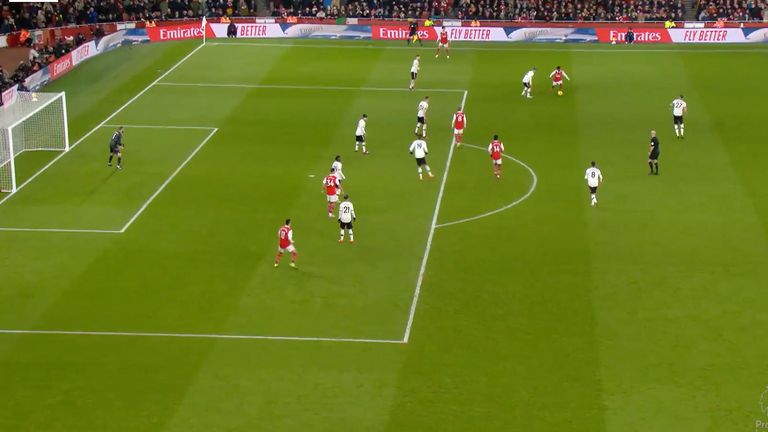 "Eriksen is not a central midfield player for me, really, he was getting isolated one vs one massively" said Carragher. "This was fantastic from Arsenal, the spread of the pitch was outstanding.
"They just moved United around all over the pitch and it meant Eriksen was exposed one vs one and he is not a player who can deal with that."
The five-person attack therefore makes opponents inadvertently play a back five or sometimes a back six – allowing Arsenal more control of matches by pushing more opposition players towards their goal.
Examples of the five-pronged attack working have been evident all season. Arsenal's first goal at Anfield saw all five appear in a straight line once Saka beat Andy Robertson on the right flank with a routine ball inside.
In fact, this tactic has been seen for most of Arsenal's goals this season, with four or five players all in their respective zones at the point of the goal.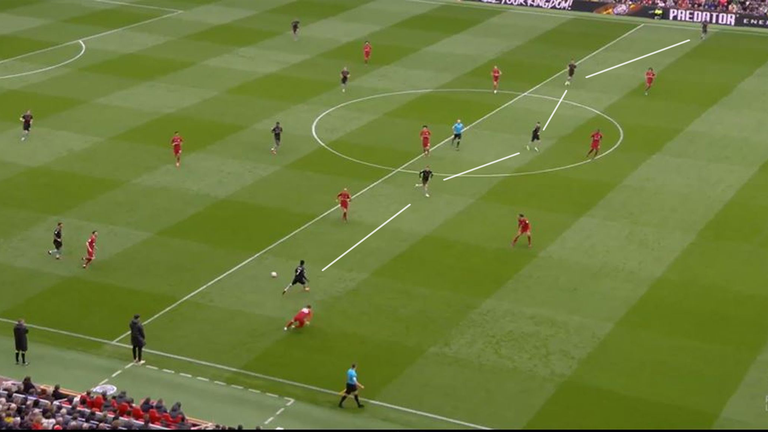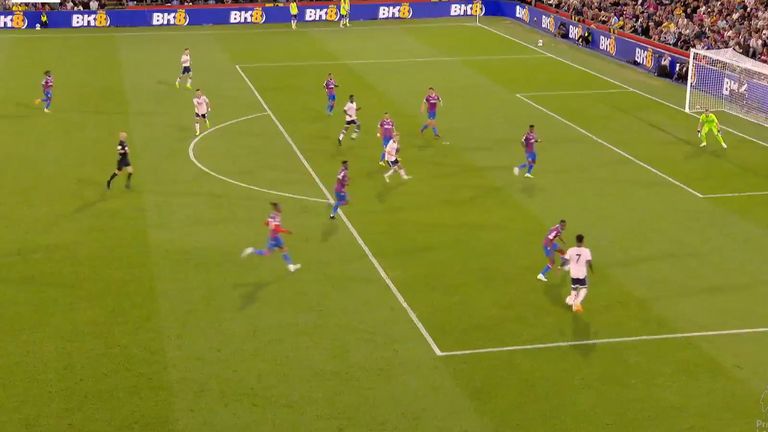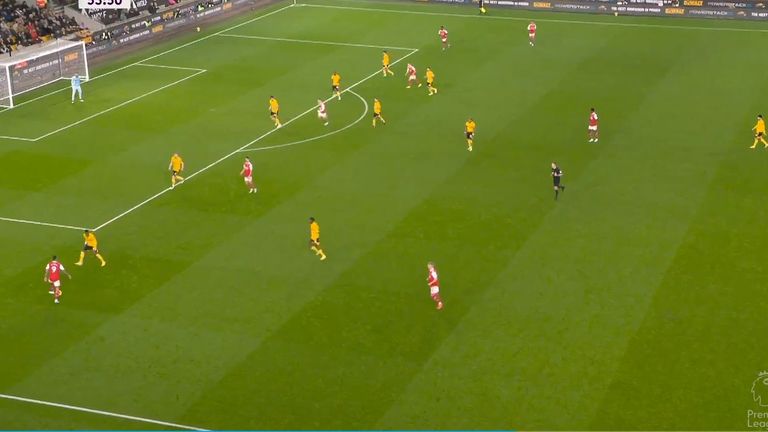 Adapting to make a front six – and seven!
An area where Arsenal have been better this season is responding to scoreline changes and setbacks. Late winners have been commonplace.
The Gunners have come from behind to win matches five times in this Premier League season, while they have also found the net within 10 minutes of conceding a goal on 10 separate occasions.
Arteta's tactics are also responsible for this. Arsenal's formation can adapt quickly after a change in the context of a game as the Gunners can throw more players forward easily in this offensive set-up.
When the Gunners need a goal – Arteta has adapted his system from a 2-3-5 formation to a 2-2-6, and sometimes even a 2-1-7.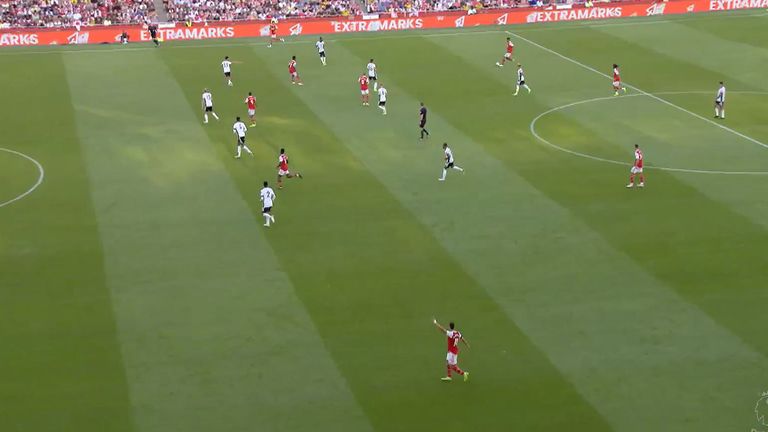 Arsenal's victory over Fulham in August saw them go 1-0 down with 20 minutes to go. Arteta shifted White up into the front five to make it a six, which increased the pressure on Fulham's retreating backline.
That move pushed Saka closer to the middle of the pitch and the winger's link-up with Odegaard led to Arsenal's equaliser.
In the north London derby victory at home to Tottenham, Arteta's Arsenal came out all guns blazing after half-time in a response to conceding an equaliser before half-time. Once again, White was seen overlapping Saka regularly in the second period – again creating a 2-2-6 formation in the final third.
Arsenal's goal to make it 2-1 came just four minutes after half-time – a move in which White went round Saka which created more space for the England winger in the penalty box and forced Heung-Min Son to track Saka.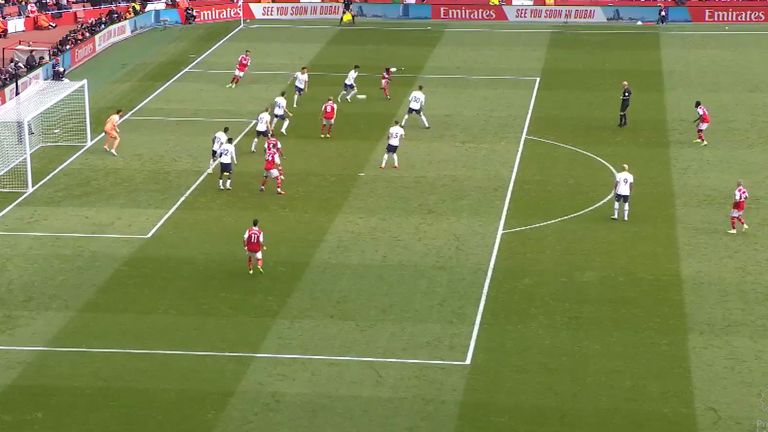 As with Eriksen, Son's unease defending was clearly seen as Saka easily beat him to provide the key assist for Jesus to score.
And against Bournemouth in March, when Arsenal came back from 2-0 down to win 3-2, the Gunners' set-up was even a front seven at times – with Arteta moving both Zinchenko and White into the forward line to create even more pressure on the defensive Cherries.
Eventually, Bournemouth cracked – as Arsenal scored a winner in the 97th minute through Reiss Nelson's memorable half-volley.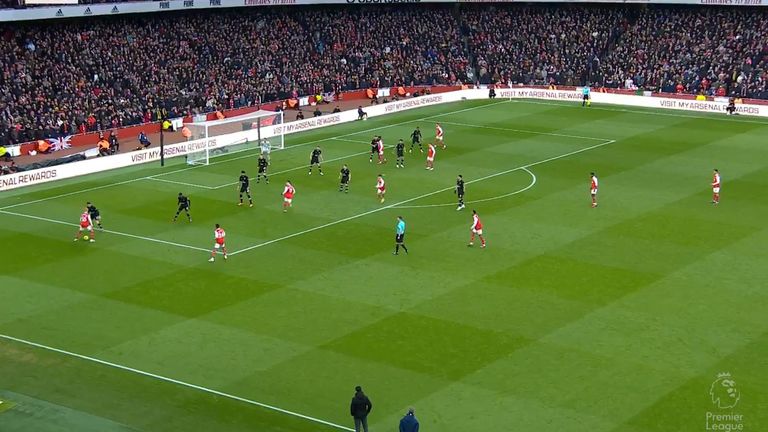 The system helps Arsenal pin defences into their own penalty area while the Gunners create wave after wave until the opposition submits. It is a common theme that has been noticed by experts this season.
"What I like about Arsenal is they keep on going, they pen you in," said Paul Merson after Bournemouth win. "It was relentless."
After Man United were beaten 3-2 by Arsenal in a late winner for Eddie Nketiah, Gary Neville said: "Arsenal were beating them up from a football point of view. This goal [from Nketiah] was coming and coming and coming. United could just not handle it."
The power of the box
The forward line is not the only area of the pitch where Arsenal seek a numerical advantage, as Arteta regularly deploys a four-player 'box midfield' which helps his side dominate games.
Again, a 'box midfield' is not a new theme in English football. It is a staple in Thomas Tuchel's teams, while Guardiola's City and Xavi's Barcelona also use a similar set-up.
A 'box midfield' is useful as it gives you a spare player against a midfield three. But Arsenal's four-man midfield includes Xhaka and Odegaard taking up high and wide positions on the pitch, meaning it creates a wide gap between the two central midfielders.
Arsenal's win over Chelsea in November is a good example where the Gunners used a box to create dominance over a 'Big Six' side away from home. Arsenal dominated the xG battle that day by 2.29 to 0.29.
Early on in the game, Zinchenko stepped off from full-back to create the box alongside Partey, Xhaka and Odegaard. Chelsea could not pick up the spare man and their midfielders were split so far wide that Zinchenko and Odegaard, two of Arsenal's best technicians, had time and space in the middle of the pitch.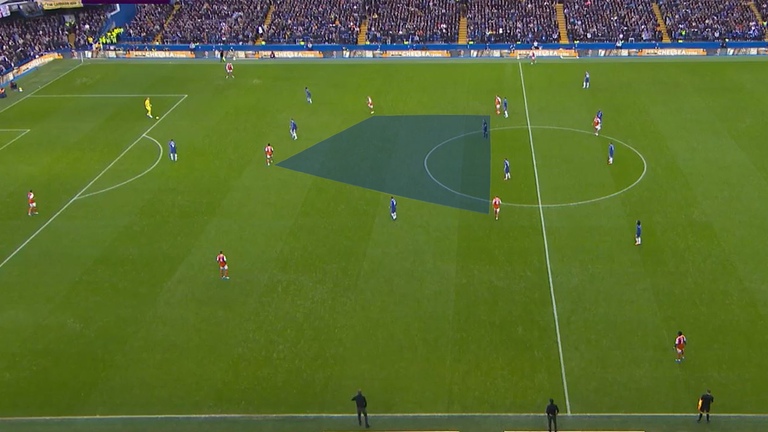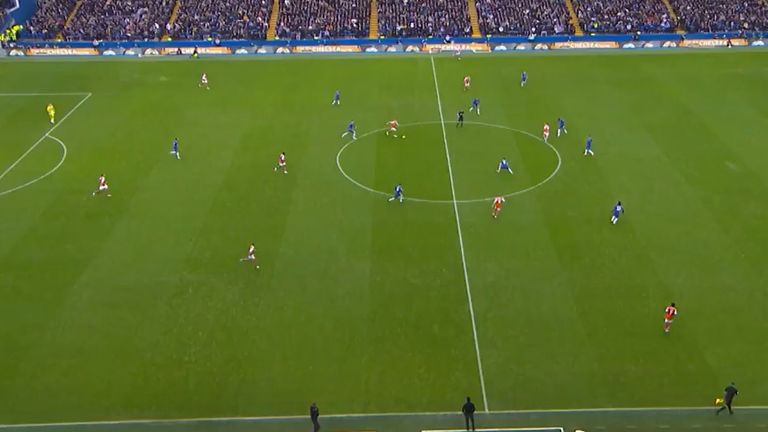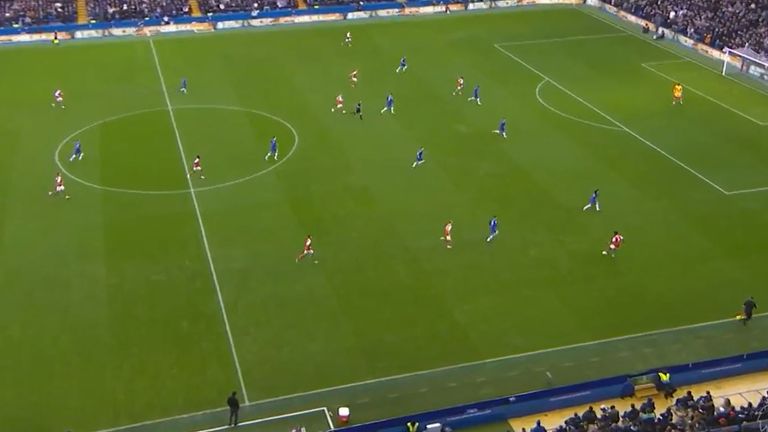 And within two vertical passes, Arsenal had got the ball to Saka's feet in a one-vs-one position in the final third.
Carragher also noticed a similar problem for Man United during Arsenal's 3-2 win at the Emirates in January, admitting he did not know how Scott McTominay and Eriksen could deal with Arsenal's midfield shape.
"It was a big problem for them, they got isolated," Carragher said. "The spread between the two of them was so vast and it came from the positions of the Arsenal midfield players.
"It was so difficult for United to be compact. They make the pitch so big Arsenal – I don't know how you stop it if you're United. How do you stop it when you are spread like that?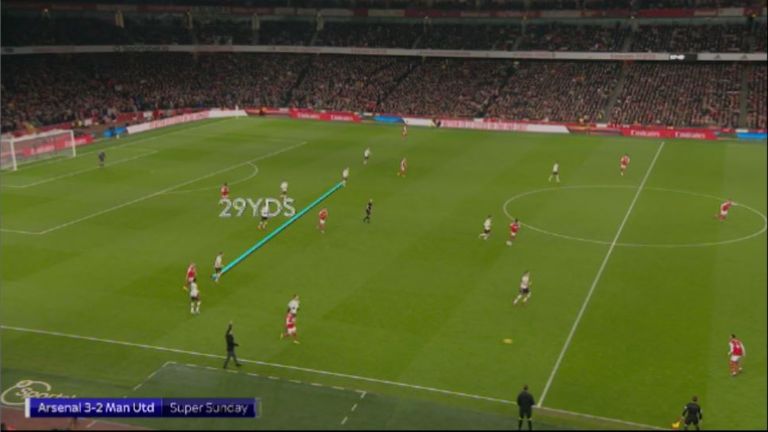 "I feel like I am watching the best-coached team in the country right now and I will go as far to say, alongside Napoli, as the best-coached team in Europe this season."
Arsenal simply cannot create the midfield box without the presence of Zinchenko – a smart addition by Arteta in the summer transfer window.
The importance of Saliba, Partey and Odegaard
In order for the five-pronged attack and box midfield to work, there are several defensive components that Arsenal need to have.
The first is a good counter-pressing system as winning the ball back quickly, especially in high areas of the pitch, is crucial to avoiding a counter-attack against your team and being placed on the back foot.
What is a press and counter press?
Team pressures: A coordinated series of pressures by two or more defenders. The defensive team must be in an 'organised defensive state' – a 'team press' cannot occur when the defensive team is in a 'transition defensive state'.
Counter press: A pressure that begins no more than two seconds after losing possession, but excludes instances after a restart in play.
Arsenal have actually made the fewest team pressures on an opponent this season – attributed to the fact they already have the ball more than most Premier League teams. But when they do press an opponent, the Gunners make more counter-presses in the same move than any other team.
Arsenal's counter-press is led by captain Odegaard, who is has made the eighth-highest counter-presses out of any Premier League player this season.
The next key component Arsenal need is a defensive midfielder – or No 6 – who is capable of guarding the defence on his own while his midfield partners go and attack.
Thomas Partey has been a crucial figure to this Arsenal side for this exact reason. The Ghanaian midfielder breaks up play when Arsenal are caught high up on the pitch.
An example of this was seen for Arsenal's first goal against Brighton. The Gunners set up in their usual 2-3-5 formation but Odegaard lost the ball on the edge of the Brighton box.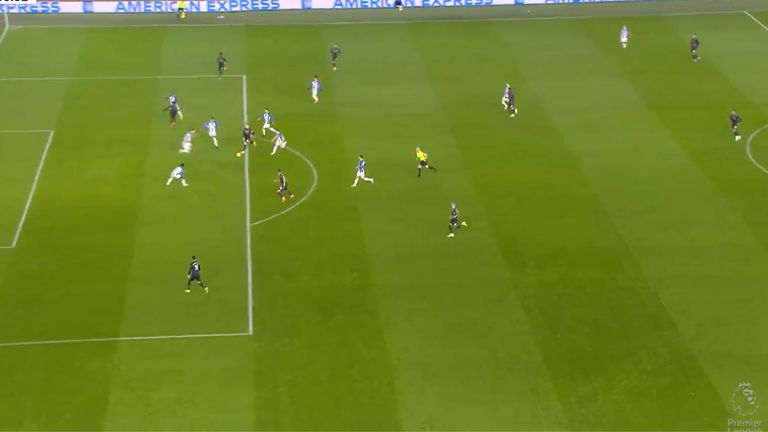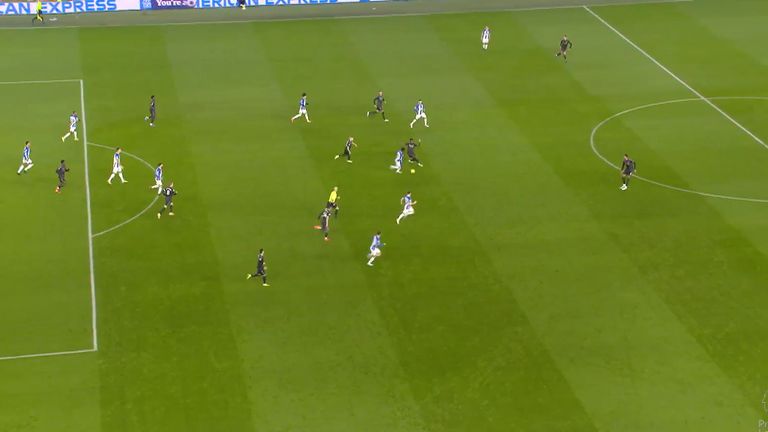 In another good example of counter-pressing, Partey was able to cut out the counter-attack on his own in the midfield, which allowed Arsenal another chance on goal. Saka went on to score just seconds later.
Partey's influence is especially useful when Arsenal turn their front five into a six or seven.
In the 1-1 draw against Brentford in February, the midfielder broke up a dangerous Brentford counter attack led by Yoane Wissa, when seven of his team-mates had committed to a break forward in the penalty box.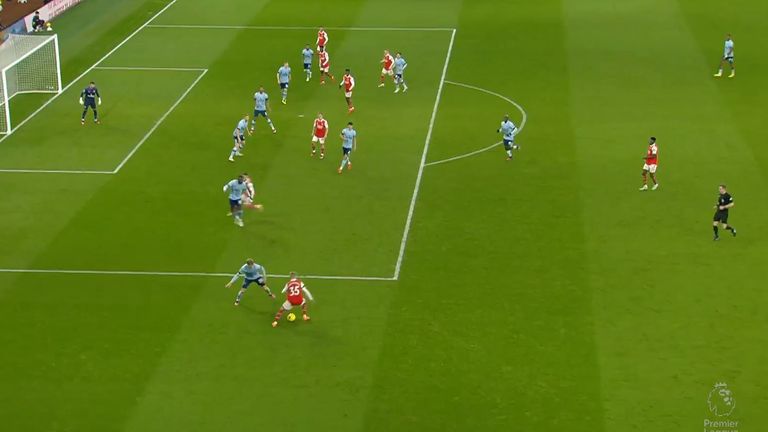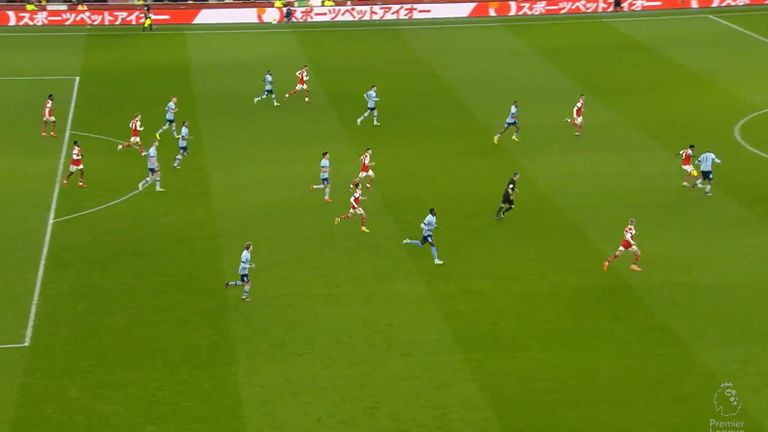 Overall, Partey ranks fourth-highest for Premier League players winning the ball in the middle of the pitch this season, which is particularly impressive given how much of the ball the Gunners have per game.
Another key aspect is Arsenal having centre-backs who can defend in wide areas. The graphic below shows both Saliba and Gabriel have been called into defensive action zones more often than not.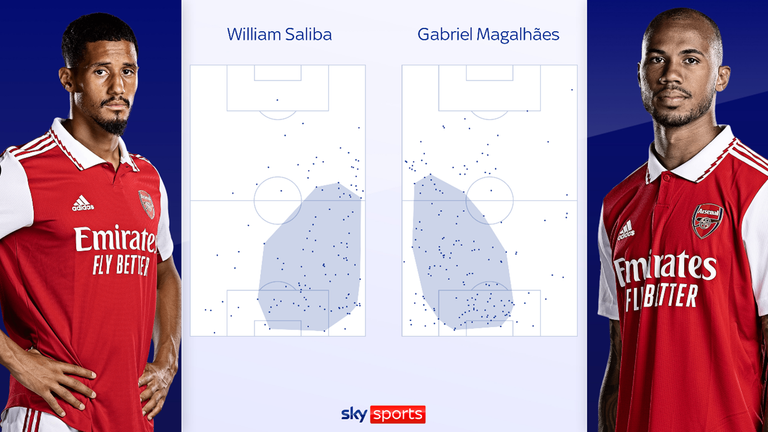 Saliba's introduction into the Arsenal team this season has been a particular revelation given it has allowed Arteta to move his side higher up the pitch than ever before.
This adds to Arsenal's ability to pen teams in and create more pressure on their opponents, while the defender's pace to get back means this attacking shift is risk-free.
Saliba's importance in this Arsenal team can be seen in his absence over the last few weeks. A clear correlation can be made between the Gunners' recent lack of control in games and his injury.
It is why his expected absence will be sorely missed at the Etihad Stadium. From a defensive point of view, there is no greater loss in terms of personnel.
Arsenal have shown that they can respond to setbacks, with Arteta capable of finding the right tweaks. But those tweaks must be absolutely spot-on on Wednesday night if they are to hang on to their title race lead.
Follow live updates on Manchester City vs Arsenal on Wednesday night in Sky Sports' live blog starting at 6.30pm, kick-off 8pm.
Source : https://www.skysports.com/football/news/12040/12863408/man-city-vs-arsenal-how-mikel-artetas-tactics-turned-the-gunners-into-title-contenders-this-season?rand=3094