Keeanu Benton interview: 2023 NFL Draft prospect on sacking Aaron Rodgers, being like Drew Brees, studying Grady Jarrett and his toughest opponent | NFL News
news
/12040/12866014/keeanu-benton-interview-2023-nfl-draft-prospect-on-sacking-aaron-rodgers-being-like-drew-brees-studying-grady-jarrett-and-his-toughest-opponent">
Does an NFL Draft prospect know which quarterback he would like to sack most? Wisconsin's Keeanu Benton certainly does as he enters this year's Draft as one of the most powerful and coveted defensive tackles in the class.
Benton spoke to Sky Sports about his toughest opponent, the current NFL players he learns from, his role across the defensive line and what he believes separates him from the rest of the interior linemen on the board.
The 21-year-old's stock has been among the most significant risers throughout the pre-Draft process as analysts and fans alike fall in love with Benton's body-shifting brute force up front.
Who is your NFL idol? The person you grew up watching, studying and wanting to be?
"It wasn't a D-lineman, I had two players I looked up to. If I played defensive side of the ball I wanted to be a linebacker, but the time I got into it I was already D-line.
"I loved Drew Brees, that was my guy, and then Ray Lewis as well. Two different people but you can see the ways they control their teams differently.
"Drew Brees wasn't really the screamer, he was laid back, down to earth, he was going to get the point across and go out and ball.
"Ray Lewis is going to go out there and ball, and he's also going to scream in your face and make you want to run through a brick wall. Those are two guys I looked at."
On that note, what kind of guy are you in the locker room?
"I let my play do the talking, but if I do need to speak up people listen because I don't yell often."
Live NFL Draft
April 28, 2023, 1:00am
Live on
Who is a player you cannot wait to face at the next level, presumably somebody across the offensive line?
"Lane Johnson. He's a cool dude. I would say Nate Herbig too, those are two guys.
"I was training at Lane's spot this offseason and got to know those guys and know some offensive linemen. It's awesome for them to kind of help me and see different views of football from both sides of the ball.
"Those are two guys I want to go up against because we talk to each other.
"Lane is one of the greatest to do it. I want to go up against him and then Nate to try and get my 'W'."
Which player would you love to play with at the next level?
"I would love to play with Nick (Wisconsin team-mate Nick Herbig), he's one of them, we've got that bond and connection and know what we're going to do out there.
"Isaiahh Loudermilk, he's a defensive lineman for the Pittsburgh Steelers, he taught me the ropes a little bit and helped me out with my playbook and steps, did extra with me as a freshman and helped me get here today."
Do you have a quarterback you would love to sack most?
"Aaron Rodgers. I'm in Wisconsin, there are a lot of Packers fans here. I'm not a Packers fan."
*Interview took place before the Green Bay Packers agreed to trade Aaron Rodgers to the New York Jets*
Keeanu Benton career stats
| | | | | |
| --- | --- | --- | --- | --- |
| Season | Games played | Total tackles | Tackles for loss | Sacks |
| 2019 | 13 | 12 | 4 | 2 |
| 2020 | 7 | 8 | 0 | 0 |
| 2021 | 13 | 25 | 5 | 2.5 |
| 2022 | 12 | 35 | 10 | 4.5 |
You have faced some top offensive linemen during your college career and this past offseason at the Senior Bowl, who has given you the toughest time and perhaps the biggest learning curve?
"I would say Cesar Ruiz, he now plays for the Saints and was the Michigan center.
"In my freshman year he gave me a run for my money, I actually personally know him now and I told him finally and he thought I was good as well, so I think that's a good thing because I was a freshman coming in before he headed to the Combine.
"I thought I did a bad job, I thought he gave me a run for my money and then he tells me they were scheming me up already as a freshman and I was like 'okay, that's why I got knocked on my ass so many times!'. He did a great job of blocking."
Are there any defensive tackles currently in the league or former players whose tape you study in detail and whose approach you admire?
"It depends, if it's the run game I like DJ Reader a lot and then if it's pass rush I like Grady Jarrett, they are both dogs.
"Grady Jarrett is crazy in the pass rush, he has some stuff up his sleeve. And then DJ Reader is a force in the middle, playing violent, he plays the run how I like to see the run played."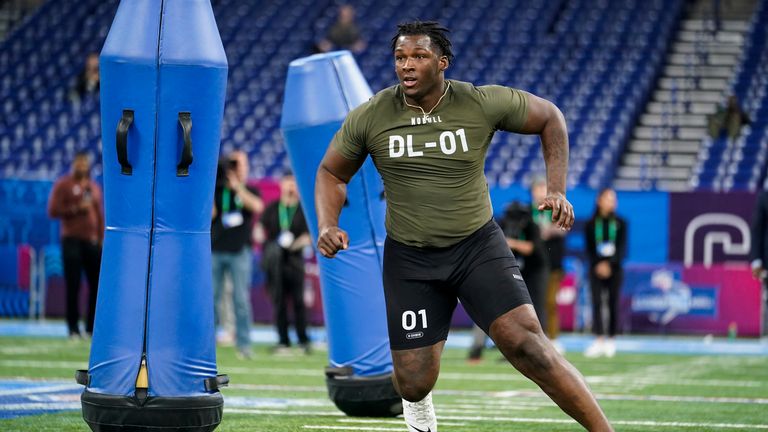 Live NFL Draft
April 29, 2023, 12:00am
Live on
What is the team that drafts you getting?
"I would say somebody who is going to come in and work, I am passionate about this sport and I'm a competitor.
"I'm not coming in to play second and third-string, I'm coming in to start so I'm going to give everything I've got."
With regards to your technical traits, what do you believe sets you apart from other defensive tackles in the class?
"Definitely my athleticism for over 310 pounds, a lot of people kind of forget that or don't realise it's hard to move 315 pounds like I do it.
"Not a lot of people can do what I can do so I would say my athleticism and weight."
We've seen you line up a lot as a 0-tech head-on with the center, what are the fundamentals that help you succeed in that role?
"Just my wrestling background, understanding leverage, understanding how high hips are going to lose and low hips win.
"The leverage in hands too, feeling which way he's going, feeling which way the double team is coming, how to press and split those things.
"I give wrestling a lot of props for my ability to hold down as a 0-tech."
Keeanu Benton profile
| | |
| --- | --- |
| School | Wisconsin (2019-2022) |
| Age | 21 |
| Height | 6'4″ |
| Weight | 309lbs |
| Arm length | 33 7/8″ |
| 40-Yard Dash | 5.08 seconds |
| 10-Yard Split | 1.79 seconds |
| Vertical Jump | 29.5″ |
| Broad Jump | 9'3″ |
| 3-Cone Drill | 7.34 seconds |
| 20-Yard Shuttle | 4.65 seconds |
| Bench press | 25 reps |
Your wrestling background has been mentioned a lot during the pre-draft process, give us an idea of how successful you were?
"I was pretty good, I can't remember my exact record but I just know my senior year record was 46-2. During my senior year I was state runner-up, I lost both times in the finals. I started wrestling in the sixth grade and I think that definitely helped me with my football style."
We have seen you shift across to as wide as a 4i over the offensive tackle's inside shoulder, what are the differences in how you approach the different alignments?
"Once you get on half a man it's kind of the same thing, 2i and 4i is basically the same thing, inside the tackle, you've got to punch him in the chest, get physical.
"The 0 is a little bit different because you're playing full man, he can go left or right, combos can come left or right, you've got to have peripheral on both sides.
"I've heard [about him being used] everywhere from a 0 to a 4i [in the NFL], so I hope they use me everywhere, I want to show my versatility."
For all that has been said about your dominance in the run game, is your pass rush ability being underrated?
"I mean yeah but I understand where it's coming from, I feel like I left some stuff out there, like I'm getting pressures and QB hits but I'm not turning them into sacks.
"I feel like I left two or three sacks on the board coming out of my senior year. At the end of the day I know I'm getting better and know what I'm capable of, so I'm going to continue to get better and turn those pressures into sacks.
"I feel like the guys who watch my film, the coaches and general managers see what I'm capable of. I think they do understand what I'm doing, not everything is going to look pretty, I'm not a quarterback, I'm not a running back. My work is dirty work and the people that need to see that will see that."
Live NFL Draft
April 29, 2023, 5:00pm
Live on
Away from the field and football, what makes you happy, how do you spend your time?
"I fish a lot, I might go today actually, it feels good outside! I fish a lot, I like to go hunting, I bowl with my friends. I'm a big kid, I like to go bowling, trampoline park sometimes, I think just being with my friends and family is a blessing in itself. I like sneakers, I like food. I do cook but I love sneakers. I just started to get my collection going but I'm kind of both."
How would those closest to you describe you?
"I think they would say I'm down to earth, I'm funny, a lot of people like being around me and just a loving person.
"I feel like my family would describe me a lot different to my coaches!"
What will it mean to you when the call comes in and you're drafted by your new NFL team?
"It will mean all this hard work has paid off. As a kid you talk about getting drafted, you watch the Draft and the Combine, it's a little surreal I'm living it but at the same time I've got to stay humble and stay true to who I am in order to get through this process and thrive and keep working. Once I get to a team it doesn't stop there. My goal is to win a Super Bowl and possibly become a Hall of Famer. That's what I'm striving to become. It's not done until it's done."
Watch all three days of the 2023 NFL Draft live on Sky Sports from Thursday April 27 to Saturday April 29 – Neil Reynolds and Phoebe Schecter will be joined by former Minnesota Vikings general manager Rick Spielman to preview the opening night on Thursday from 9pm, with the first draft picks expected to be made just after 1am.
Source : https://www.skysports.com/nfl/news/12040/12866014/keeanu-benton-interview-2023-nfl-draft-prospect-on-sacking-aaron-rodgers-being-like-drew-brees-studying-grady-jarrett-and-his-toughest-opponent?rand=3094