Joe Root: How England can create 'unbelievable memories' in exciting Ashes and World Cup year | Cricket News
Joe Root believes his debut season in the Indian Premier League and developing his white-ball game can serve as ideal preparation for England ahead of The Ashes and defending the ICC Cricket World Cup later this year.
The former England Test captain, who made way for Ben Stokes 12 months ago, has yet to feature for Rajasthan Royals this season and is focusing on building his fitness ahead of a packed summer schedule.
With a team including compatriot Jos Buttler and stars Ravichandran Ashwin, Yashasvi Jaiswal, Sanju Samson, Jason Holder, Adam Zampa and Trent Boult, 2022 finalists Rajasthan are currently second in the IPL standings heading into the second half of the campaign. They will be looking to rectify back-to-back defeats when they face Chennai Super Kings on Thursday, live on Sky Sports.
Root isn't expecting to feature for Yorkshire in the County Championship this summer ahead of England's one-off pre-Ashes Test against Ireland in June, and thinks working on his short-form game in India, where the ICC Cricket World Cup takes place in October, could enhance his international form.
Sky Sports' Michael Atherton takes a closer look at Australia's Ashes squad and expects England to target an out of form David Warner.

He told Sky Sports news: "When I was England captain, I didn't feel it was fair on the rest of the team for me to go and play in the league with the amount of cricket that there was and the schedule as it was, given what the [Test captaincy] role needed and what it deserved.
"Now I feel like there are more opportunities to do that without the responsibility and I'm just trying to look to keep developing as a player. I love county cricket and I think it is so important for the English game.
"Looking ahead to the rest of the year and what lies ahead, the experiences in the recent past and the chance to play white ball cricket out in India and learn and focus on a side of my game that I've not focused a lot on over the last couple of years, ahead of a World Cup for England in these conditions as well, I think will benefit me hugely.
"I could play six county games, but would I learn a lot about myself from a selfish point of view? This is the best place for me to be ahead of what is an incredibly exciting nine months for English cricket.
England captain Ben Stokes says that his side won't change the way they play against Australia in the Ashes.

"It's been a really cool learning experience in that regard, obviously I've played against a lot of cricket against [my team-mates] internationally so it's been good to get to know them on a personal level. I've had the chance to get some good gym work done and to make sure I feel fresh and ready to go and constantly looking to improve.
"I've known Jos [Buttler] since he was 12 years old and played age group stuff against him. He has started like a house on fire and been very dominant at the top of the order. In that respect it has been great to see the game slightly differently."
Root was tight-lipped on whether he could feature soon for Rajasthan but maintains he is working hard off the field and developing a good friendships with new team-mates, with Indian leg-spinner Yuzvendra Chahal recently teaching him some desi dance moves.
Joe Root showed off some epic dances with Rajasthan Royals teammate Yuzvendra Chahal.

Root recalled: "I didn't think that would be captured on camera to be honest, I'd thought it had slipped the net but clearly it didn't.
"I'll be careful now to make sure that if I bust out any moves there are no cameras around! It was good fun though. There is a real family feel to it, some wonderful characters which is always nice when you come into a new environment.

Thursday 27th April 2:50pm

"You've got to do everything you can to help the guys out on the field, whether it be having conversations with those more junior players in the squad and making sure that if you are called upon to play that you are absolutely ready and you're doing all the work that needs to be done to make sure that you're giving yourself the best chance."
'As Ben [Stokes] says – walk towards the danger'
England will begin their attempt to win the Ashes for the first time since 2017 in fine form, having triumphed in 10 out of 12 Tests under Ben Stokes' captaincy, with Australian fast bowler Mitchell Starc recently admitting that it's "not the best time to play" them.
Mitchell Starc admits he can't wait to take part in this year's Ashes for Australia against England.

It will be the first time Australia have faced England's new positive and aggressive brand of cricket 'Bazball', but Pat Cummins' team are the top-ranked Test side in the world and face second-placed India in the World Test Championship final at The Oval in June prior to the first Ashes Test at Edgbaston.
Relishing the exciting months ahead, Root said: "You look at 2019 and how incredible that was with a World Cup and an Ashes and obviously it's not a World Cup in England, but it [this year] has a similar feel to it.
"There are so many opportunities for players to do wonderful things and create unbelievable memories. They are the things that you play for, to be a part of some special memories and cool experiences and they certainly all lay ahead for us.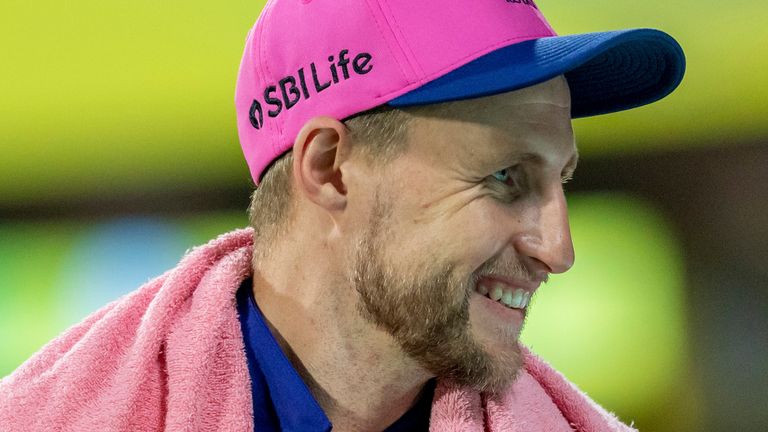 "We look forward to defending the World Cup, and with the Test team it's been an incredible turnaround in the last year and we've done some wonderful things and it's been incredible to be a part of. You feel like the sky is the limit for the group.
"We know an Ashes series is always different, there are always so many more things to contend with but as a group we are so excited to meet them head-on. As Ben [Stokes] says, walk towards the danger."
Selection headache for England?
With 52 days remaining until that first Test, the fitness of England's players is a hot topic as the series draws closer.
A welcome boost for McCullum and Stokes came on Tuesday when Root's Yorkshire team-mate Jonny Bairstow hit 97 off 88 balls at Headingley for the club's second XI in his first game back since breaking his leg in September 2022.
England's Jonny Bairstow scored 97 runs off 88 balls for Yorkshire's Second XI on his return from a broken leg he sustained on a golf course last year.

Root said: "I'm really excited for him, I hope he enjoys it and he is pain-free and he can trust his body again after such a horrific time.
"I've spoken to him quite a bit over the last little while and while he is injured. For someone who is very outgoing, who likes to spend a lot of time with other people and who is very busy, it must have been really tough for him.
"He's worked incredibly hard to get himself to this position. I'm excited to see him get back playing and to hopefully bolster our squad ahead of what's going to be an amazing summer of cricket and he'll give a great headache for those making those decisions."
Every match from the men's and women's Ashes will be broadcast live on Sky Sports. You can also follow videos and over-by-over text commentary across Sky Sports' digital platforms.
Source : https://www.skysports.com/cricket/news/12040/12866292/joe-root-how-england-can-create-unbelievable-memories-in-exciting-ashes-and-world-cup-year?rand=3094