Harrison Reed exclusive interview: Fulham midfielder on tactical secrets of his partnership with Joao Palhinha | Football News
At 28, Harrison Reed has established himself as a starting midfielder in a top-half Premier League team. Almost a decade on from his debut in the competition, everyone has come to appreciate that he belongs at this level — himself included.
There were doubts. He was not always flying with Fulham. Appearances at Southampton were sporadic. Loan moves to Norwich and Blackburn were not straightforward. He has no regrets over the route he has taken but he is open about the challenges.
"Playing regularly in the Premier League was always the dream but do not get me wrong, there were moments during my career when I doubted that I would get there. As a footballer, people do not see that from the outside," Reed tells Sky Sports.
FREE TO WATCH: Highlights from Fulham's win at Everton including Harrison Reed's goal

"You have big ups and downs. There were big drops in confidence. There were times on loan at Norwich when I could not get into a midtable Championship side. In those moments, you do go home and analyse it and wonder where your level is."
The story of how Reed discovered his level was as high as this – and still rising – is both simple and complicated.
Simple because, supported by family and friends, it has been about hard work. "I stuck at it. When you are down, you have to fight. That is when your true colours show. It was all about the determination to keep working, keep learning. That was my pathway."
Complicated because Reed's success at Fulham is a tale of tactical nuance, of a player thriving in a system. Mentally, he has always been tough. Physically, he has always had it. Technically, he has always been able to receive a pass and find a team-mate.
Tactically, however, there has been an evolution in his game.
He credits Fulham boss Marco Silva as the catalyst for that change. "You need trust from the manager. Marco has given me that." Reed had worked on the training ground with high-class coaches before but it is different when a player feels truly important.
"When I was young, I would not always be at the forefront of the manager's mind in terms of information. You would hear little bits that they were saying to other players and try to pick up on that. Now, I get a lot more feedback. That has helped me a lot."
It also helps that Silva discovered a player who was hungry to learn. "I watch a lot of football, listen to the analysis, study players in my position. That has added to my game and my tactical knowledge has certainly improved. I know what the manager wants now."
What the manager wants is tricky. Reed is operating in a more advanced role with greater responsibility to score and create. But his presence in the opposition half is also about closing down when Fulham are out of possession. Defending on the front foot.
The statistics show that Reed's midfield partner Joao Palhinha has made more tackles than any other player in the Premier League this season. The Portugal international has received huge credit for his performances and rightly so. But he is not working in isolation.
"We set the triggers," Reed explains.
"Joao is a tackling machine. My job is to get pressure on the ball. It is about complementing his style and forcing the ball into areas where we can win it. My tackle numbers are not very high but in terms of pressuring the ball that is where I affect the game more."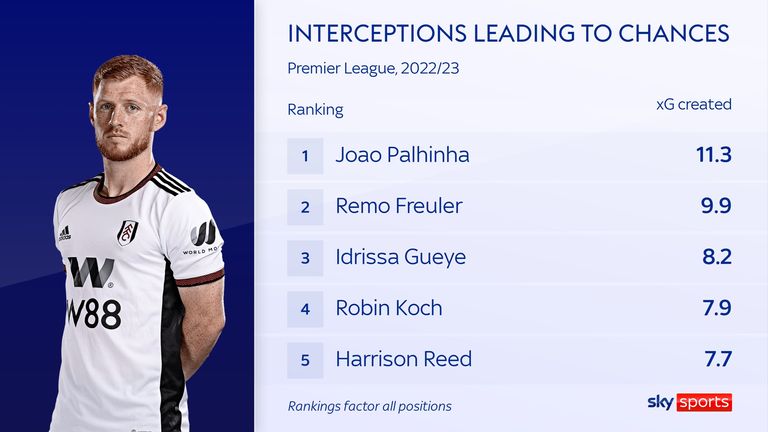 Delve deeper into those statistics and that truth reveals itself. Reed ranks highly for pressures. Both men are among the top five players in the Premier League for interceptions leading to expected goals. Winning the ball back high up the pitch is all part of the plan.
"The two of us work on it a lot in training and the manager demands a lot from us. One has to be forcing pressure on the ball and the other needs to be in a balanced position to block a passing lane into the attacker's feet. We try to force the ball where we want it to go.
"We show the passing lane to be open but we try to anticipate so that when the passer's head goes down, he thinks the pass is on but we are already looking to intercept. Knowing that we are covering for each other allows us to disrupt the play into the pockets."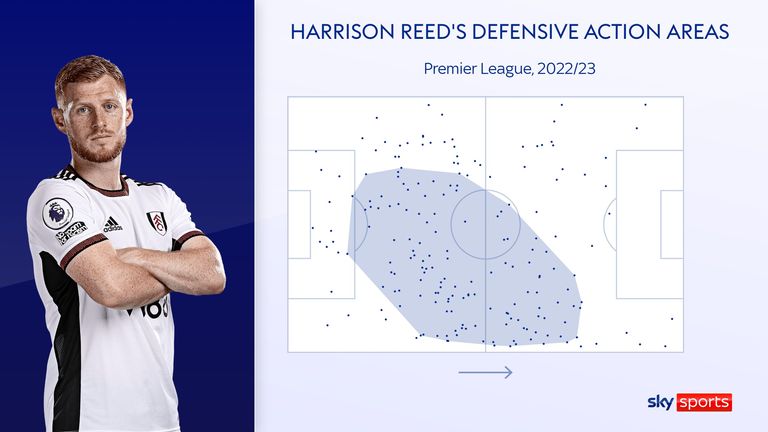 It is rare to hear a player speak about these tactical details but this is the daily reality of life working under Silva. "It is brilliant," says Reed. "The information every day on the pitch. The standard that the manager drives. I have not seen it before, if I am honest.
"You always come up with enthusiasm but we felt it was different this time. The organisation and the structure that the manager gives us, when we cross the white line, everybody in the team understands their role. I think that is crucial at the highest level.
"We have done extremely well but every day he is making sure we are still learning, making sure we are working even harder. He has hammered home to us the fact that if standards slip, results start to turn. You are not really allowed an off day with the manager."
Those demands include scoring goals.
That is new. "Very new! Showing after 100 games for Fulham I can score goals." His finish at Everton was his third of the season. "I set myself a target at the start of the season and I have not reached it yet but I want to prove my team-mates wrong," he adds.
One more and only Aleksandar Mitrovic among them will have outscored him. Reed knows that his role is to make Fulham difficult to play through. "Sometimes my job is not pretty. It is not about flicks and tricks and standing out that way." But that is changing.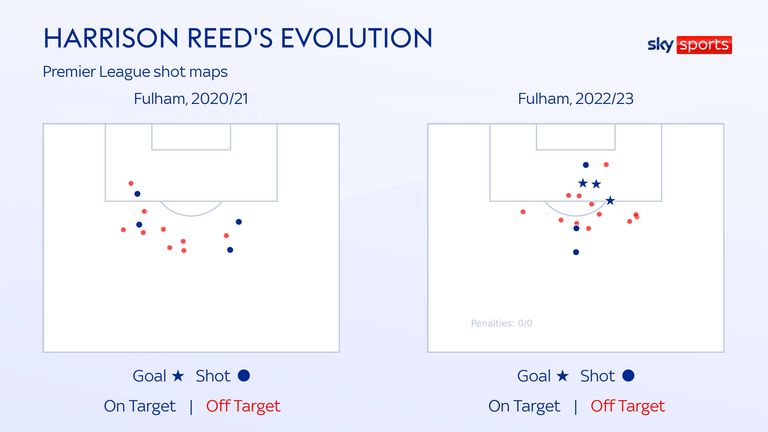 "This new position that I have been playing in the last two years under this manager, I do find myself in the positions. I have had games where I have missed chances but you have to keep putting yourself there. It is about having the composure to stick it away.
"In previous years, I had a lot more responsibility defensively but playing alongside Joao really gives me that licence. The manager demands it. If I were not doing it, I would not find myself on the team-sheet. I felt that pressure and it is a good pressure to have."
Silva's demands aside, Fulham go into Sunday's game against Manchester City at Craven Cottage with the pressure firmly on their title-chasing visitors. For Reed, the identity of the opponent harks back to his Premier League debut all those years ago.

Sunday 30th April 1:00pm


Kick off 2:00pm

It was 2013 when he came on during Southampton's 1-1 draw with City. With the game in the balance, Mauricio Pochettino turned to the teenager. "I remember warming up thinking he was not going to bring me on in a close game," Reed recalls.
"As a substitute, you want to be comfortably leading or coming on to make a difference. I just remember being really nervous as I jogged back to the dugout but the manager gave me a few words of encouragement and the mind switches. It was a special moment."
Ten years on and Southampton's Premier League prospects looks precarious. Reed's future looks brighter. "It is not something I like to see and I do not wish it upon them at all. But I suppose, personally, it does show how much I have come on," he says.
"Thinking back to that time, you think you are ready for first-team football and are disappointed not to be playing. But it is all part of the learning curve of getting to this point now where I really feel at home in the Premier League. Every step has played a part.
"I had to be patient and believe in myself. Now I am in a team looking up rather than down. We have a really good manager, really good players, and next season can be an exciting one too. It is a really exciting time. I just had to stayed focused and wait for my moment."
Harrison Reed's moment has arrived.
Watch Fulham vs Manchester City live on Sky Sports Premier League this Sunday from 1pm; kick-off 2pm
Source : https://www.skysports.com/football/news/12040/12867459/harrison-reed-exclusive-interview-fulham-midfielder-on-tactical-secrets-of-his-partnership-with-joao-palhinha?rand=3094