China 'recognizes Mexico's strategic value' as it eyes greater influence with US neighbor
China has drastically ramped up its foreign investments in Mexico in the private and government sectors over the last decade, which has prompted some concern as experts warn there is a financial and political upside for Beijing as U.S.-Mexico relations falter.
In 2021, China's foreign direct investment (FDI) in Mexico reached a historical high despite restrictions Washington slapped on Beijing exports as the trade war kicked off.
But Eric Farnsworth, vice president of the Americas Society and the Council of the Americas, told Fox news Digital that "China increasingly sees opportunity in Mexico, and the investments are increasing."
The economic development and trade expert explained that the spike in Chinese investment boils down to two main contributing factors: Beijing's attempts to bypass Washington's sanctions and deteriorating relations between the U.S. and Mexico.
SOUTH KOREAN PRESIDENT TO MEET WITH BIDEN, CONGRESS FOLLOWING CONCERNS OVER INTEL LEAK
"It's convenient to try to circumvent sanctions … by going to Mexico and then producing in Mexico and then trying to get into the U.S. market," Farnsworth said.
Despite the ongoing trade war, the U.S. market remains China's biggest single-nation exporter – surpassed only by the Association of Southeast Asian Nations (ASEAN), which embodies 11 member states, and the European Union, which is made up by 27 nations.
But Chinese companies eager not to lose out on any U.S. consumerism have increasingly set up shop just south of the U.S. border in the hopes of skirting U.S. trade restrictions and slapping a "Made in Mexico" sticker on their products instead.
The strategy of "nearshoring" in Mexico is not new, and nations like Japan have been producing top commodities like automobiles out of the U.S.'s southern neighbor for decades due to its immediate access to the States and its more affordable production rates.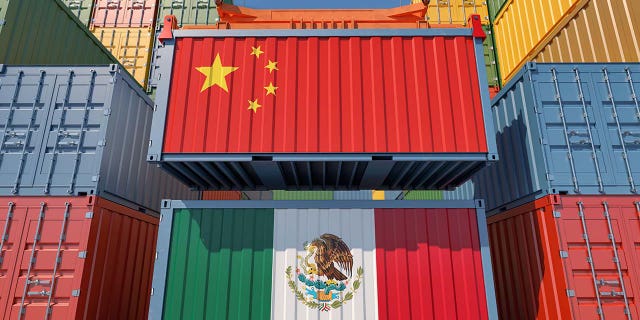 Though when looking at China's FDI in Mexico, it is not just private entities looking to play into the moment, Farnsworth said.
"China's relationship with Mexico is not terribly strong, but the more the relationship between Mexico and the United States deteriorates … China sees opportunity there," he said.
The People's Republic of China has also made investments in Mexico, similar to initiatives it has launched in other parts of Latin America, particularly when it comes to telecommunication systems, digital infrastructure, energy and natural resources.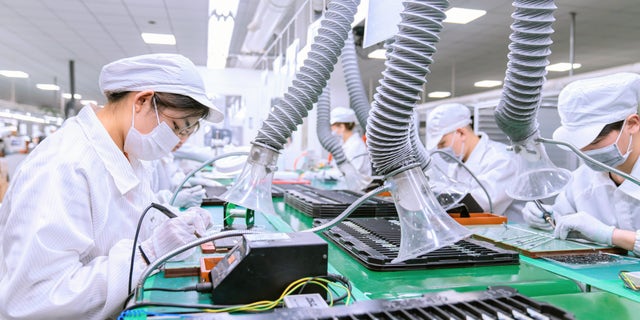 CHINA FUMES AS BIDEN PLOTS TO STARVE IT OF AI INVESTMENT: 'SCI-TECH BULLYING'
Lithium, dubbed "white gold" for its skyrocketing global demand due to its use in everything from toasters to electric vehicles, has become a top commodity, and Mexico is one of the world's top 10 lithium-rich nations.
But Mexican President Andres Manuel Lopez Obrador has pushed his nation to nationalize lithium, which has left more questions than answers when it comes to investing in and exporting the natural resource.
As of this week, both chambers of Mexico's government have approved a bill that would give a state-run agency complete control over its lithium mining and extraction. No such agency yet exists in Mexico, and it is unclear if the government even has the necessary technology to extract its lithium, which is largely trapped in heavy clay soil.
Just one lithium mine in Mexico, operated by a Chinese firm, is even close to being able to extract the top natural resource, and it remains unclear if the Mexican government intends to seize this mine, Reuters reported this week.
One security expert on Latin America and the executive director of the Center for a Secure Free Society, Joseph Humire, said that apart from hindering China's lithium ambitions in Mexico, he believes nationalizing the resource could open up the lithium market to corruption and even bolster Beijing's reach.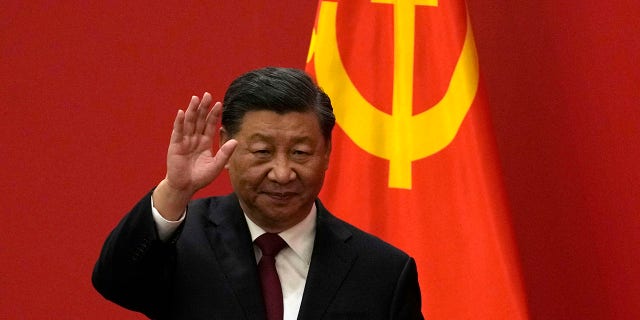 "The reason they want to nationalize all this stuff is they want to have state control over it, so they can facilitate a state-to-state contract with China," Humire said.
Humire explained that the process of building out state-to-state contracts is "much easier" than holding open bidding processes through a private firm that overseas foreign capital.
"The United States competes very well with foreign capital. We have some of the biggest companies in the world and major industries, including in the extraction industry," he continued. "But you limit that competition when you nationalize it."
Humire said that state-to-state contracts are frequently based on "broader relationships" one nation shares with another, and though the U.S. has a long-standing trade partnership, China is able to offer incentives that private U.S. companies cannot.
MEXICAN PRESIDENT BLASTS US FOR ALLEGEDLY SPYING ON IT AFTER CARTEL ARRESTS
news
" class="image-ct inline">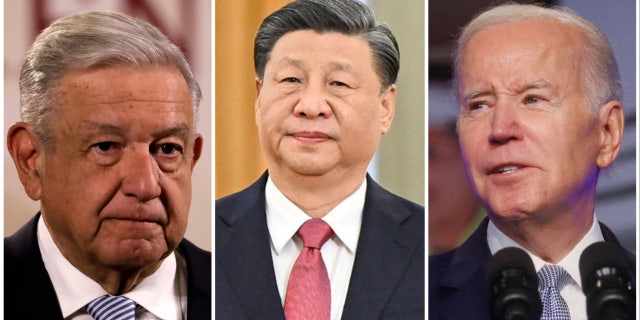 China has long developed a reputation for overpaying for foreign assets in which it is interested in investing – a strategy that not only pushes private companies dependent on a return of capital and shareholder interests out of the competition, it also buys foreign influence and sway.
"Why are [Chinese companies] paying those [prices]? Because they're directed by the government, which is interested in those assets for strategic reasons," Farnsworth said.
The development expert explained that China's varied investment interest, both in the private and government sectors, are essentially "one and the same."
"It's almost universally government directed," he said. "The strategic investment decisions, where to go, how much to spend, what the benefits are to China, etc., are all driven by the central government."
Though China has ramped up its FDI, loans and trade with Mexico in recent years, it is also doing so cautiously, and the U.S. still remains far and away Mexico's top investment partner, said Evan Ellis, a research professor of Latin American Studies at the U.S. Army War College Strategic Studies Institute.
According to Mexico's Ministry of Economy, China accounted for just 8% of its overall FDI, contributing less than $1 billion in 2021. Whereas the U.S. accounted for nearly 43% of all its foreign investments with $15 billion in FDI that year.
"China has advanced relatively cautiously towards Mexico, historically recognizing that it's a conservative, or at least previously conservative, country that is very close to the United States," he said. "And yet China recognizes Mexico's strategic value."
"Mexico is in many ways kind of the strategic buffer between the U.S. and Chinese investment and influence and all the rest of the Americas," he added.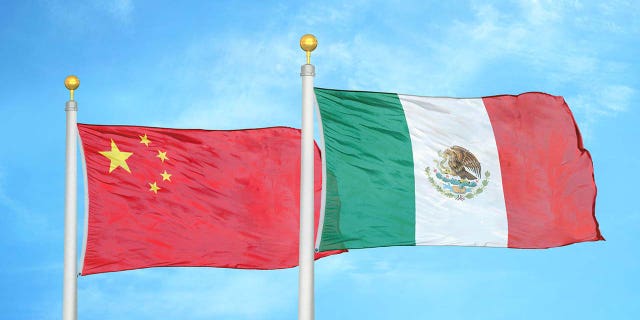 CLICK HERE TO GET THE FOX news APP
Ellis, who is also a senior associate with the Center for Strategic and International Studies, said China's interest in Mexico is still concerning.
"The danger is not Mexico doing business with China," he said. "The danger is an economically weakened Mexico, politically more fragile, less transparent [and with] more corrupted institutions, doing business with China in a way that allows China to advance in a predatory fashion and influence the political classes."
Source : https://www.foxnews.com/world/china-recognizes-mexicos-strategic-value-eyes-greater-influence-us-neighbor?rand=1264