Arsenal Women vs Wolfsburg Women: Can Gunners emulate first-leg heroics to secure spot in Women's Champions League final against Barcelona? | Football News
A stunning revival should inspire Arsenal ahead of their Champions League semi-final second leg against Wolfsburg, with Barcelona watching and waiting in the final.
Can the Gunners overcome Wolfsburg at the Emirates? Or will they face more misery at the hands of the German club? Sky Sports' Maryam Naz looks at the key talking points…
Can Arsenal repeat their first-leg heroics at the Emirates to stave off Wolfsburg?
The hosts have fallen short in two previous attempts to get past Wolfsburg in the Champions League. Ten years ago, in the 2012/13 semi-finals, English teams did not have such strength to drawn upon in their squad against European counterparts.
Last season's exit, however, isn't as excusable. While the Londoners salvaged a 1-1 draw late in the first leg of the quarter-final, in the reverse tie, they were undone by goals in each half, one of which was an own goal from Leah Williamson.
Jonas Eidevall's team had shown a worrying frailty in that fixture; but this season, they have discovered a renewed sense of determination, despite the absence of key starters to injuries.
No Beth Mead, Vivianne Miedema, Kim Little, and most recently, Williamson has left Arsenal severely depleted. And yet, they came from behind to win against Chelsea in the Continental Cup final, Manchester City in the league, and Bayern Munich in the previous round of the Champions League.
They have not wavered from their battle plan, even with the injury crisis and shortage of replacements. That much was evident last week in Wolfsburg. Two early goals from Ewa Pajor and Sveindis Jane Jonsdottir might have deflated any other side. But the Gunners fought their way back over the precipice thanks to Rafaelle Souza and Stina Blackstenius's efforts.
They'll need to rediscover their bravery at the Emirates on Monday in front of what is looking to be a sell-out crowd.
news
reporter Gail Davis shares Arsenal and Wolfburg's team lineups for their UEFA Women's Champions League semi-final" data-clip-type="" data-component-name="sdc-site-video" data-competition="" data-copy-url-text="URL copied to clipboard" data-fn="sdc-site-video" data-id="id_f2f96593-0a80-4a18-9981-a0162410e4a3″ data-is-live-stream="false" data-lite="true" data-options="" data-originator-id="49″ data-originator-handle="brightcove-sport-gb" data-package-name="" data-provider="brightcove" data-player-id="DESF5xFjJ" data-playsinline="" data-sensitive="false" data-sdc-id="6130603″ data-sdc-video-id="f2f96593-0a80-4a18-9981-a0162410e4a3″ data-sport-category="" data-state="loading" data-video-ad-unit="videoplayer" data-video-blacklisted-originator-ids="" data-video-id="ref:f2f96593-0a80-4a18-9981-a0162410e4a3″ data-video-type="" data-auto-pause-on-not-visible="" tabindex="-1″ data-closed-captions-position="" data-show-closed-captions="false" data-show-pip="">
Sky Sports news reporter Gail Davis shares Arsenal and Wolfburg's team lineups for their UEFA Women's Champions League semi-final

Arsenal's lineup conundrum: Will the Gunners opt for a more stable defensive setup, or prioritise the attack?
In Wolfsburg, Eidevall set up with a back three of Lotte Wubben-Moy, Jen Beattie and Souza, with Noelle Maritz and Steph Catley playing as wing backs.
It was an attempt to compensate for the loss of key players and it went nightmarishly wrong. Disarray ensued in the defensive ranks as players did not know when to run and when to press – the primary reason why the second goal was conceded.
Arsenal Women head coach Jonas Eidevall says the victory over Bayern Munich to reach their first Champions League semi-final since 2013 is 'an incredible achievement'.

Beattie, who featured in both legs of the 2012/13 quarter-final, was the one silver lining. She kept the back line as tightknit as possible, and although a rare starter, will likely need to be around on Monday to help retain stability.
If Arsenal want to achieve that, they might need to switch to a back four. Will Eidevall stick with his defensive triumvirate, or twist?
Going with the former might be useful on the front foot, especially considering the litany of non starters. The three at the back gave the wing backs time to orchestrate attacking moves, as well as drawing the Wolfsburg defence away from central areas.
The latter, however, probably ensures there isn't a repeat of two goals conceded early in the game. This might hold more precedence, given that Alexandra Popp, who sat out of the first leg with injury, will be fit to make a return.
With a bench comprising goalkeepers, teenagers and tentative starters, the more conservative approach might suit the Gunners better, with over 50,000 fans on hand at the Emirates watching.
The lineup that could bring that about might be: Manuel Zinsberger; Maritz, Wubben-Moy, Beattie, Rafaelle; Frida Maanum, Lia Walti, Steph Catley; Victoria Pelova, Blackstenius, Katie McCabe.
Can Arsenal fire themselves to their first Champions League final since 2007?
It won't be easy. Wolfsburg are unbeaten in seven competitive trips to England (and London) in the Champions League. They've proved time and again, that they are the superior side.
Highlights of the Women's Super League match between Arsenal and Manchester City.

But Arsenal have also shown that they can battle their way back from difficult situations. Be brave in three days time, and they'll certainly be rewarded for it.
One way of doing that is channelling the spirit that stand-in captain Walti displayed last week. Despite the fact that she was playing through the first leg with a heavily strapped hamstring, she was in good form and added an extra element of spice to the tie, by regularly involving herself in mid-pitch fracas'.
Walti proved that by shoving over Lena Oberdorf after being roughly taken down by the Germany attacker in the late stages of the game. That spat might have been a more unpleasant element of the game, but it did the trick – Wolfsburg's plans for a late goal were foiled.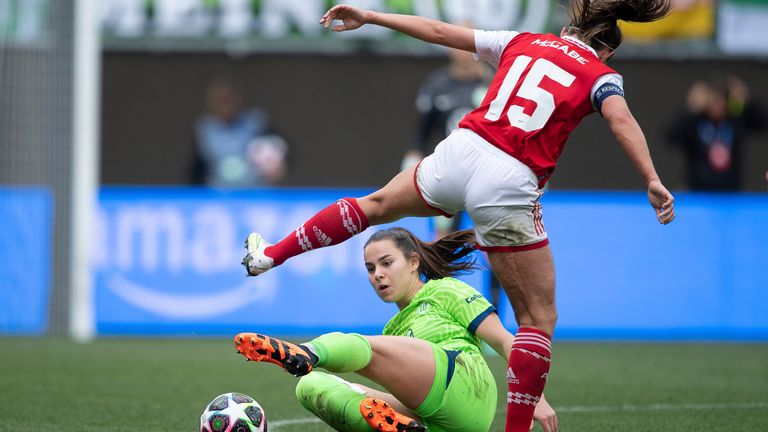 Of course, all of that might be for nothing if Pajor gets the time and space she did in the first leg. The competition's leading scorer played as if her partner-in-crime Popp was still haunting the flanks beside her. On Monday, she will, likely in a 4-2-3-1 setup, alongside Jonsdottir and Svenja Huth.
Arsenal will look to counter that with their own shape, and as much as they can, give the onlookers something more to dream of.
Source : https://www.skysports.com/football/news/12040/12868029/arsenal-women-vs-wolfsburg-women-can-gunners-emulate-first-leg-heroics-to-secure-spot-in-womens-champions-league-final-against-barcelona?rand=3094